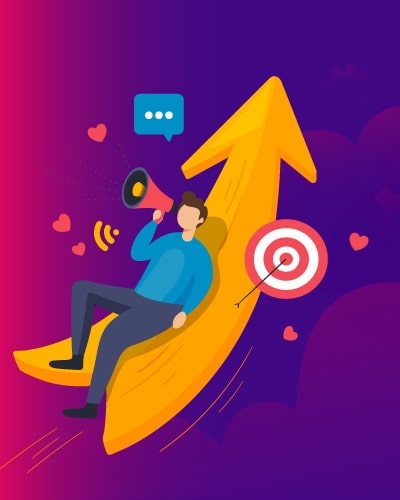 Offline Marketing Agency
Not just digital, we deliver offline marketing services too
We have efficiently delivered various campaigns that have rocked the marketing space. We work by analyzing consumer behavior from across various channels and create campaigns with strong strategies and alluring content. All these help increase the consumer pull, thus boosting your sales.
From printing, visiting cards, brochures, pamphlets to activating societies and malls to organizing big events and meetings our team delivers in budget and time. We have a strong team that executes product sampling and outdoor marketing easily.
Our offline marketing services complement our digital services beautifully and you do not have to go anywhere else for this. Over the time we have grown as one of the most prefrred offline marketing agency in Delhi.
Offline Marketing Services We Offer
The return of investment of any business depends on the marketing and advertisement of the products or services offers. We at AmitKK understand that the message you deliver to your prospective customers is the only hook. We assist you in choosing the right offline marketing platform for effective communication. Our offline marketing techniques help brands differentiate themselves from their competitors. We help you distinguish your brand at various levels, from strategy building until creating your visual identity online.
Print
Complete print solutions for all kinds of collaterals
Outdoor Marketing
Outdoor marketing solutions covered ened to end
Video Marketing
Promote your products with videos and animations
Mall & society activation
Malss and societies activated to showcase your product
Canopy installation
We install on calls to connect with commuters easily
Product sampling
Product sampling for first hand feedback from customers
Offline Branding Services Company
Our creative team works with you to create a convincing visual for your business, thus showcasing your brand in a new light to the world.
Some of the other offline marketing services we provide include, but are not limited to
Creating marketing strategies
Offline and online advertising of your brand
Brand development
Development of marketing campaigns
Creating Brochures and Annual Reports
Content development for promotional and creative leaflets
Trade advertising
Video and Photography Production
Offline marketing as branding solution
In this era of digitalization, is the evolution of online medium as a powerful tool for marketing making the offline or traditional marketing redundant? Well, no wonder, if this question arises in many of our heads. After all, online marketing campaigns are quantifiable. Real-time tracking, mapping of conversion rate against ROI is very much possible here unlike offline media.
But, here's why we still can't do away with offline marketing:
Even today, in many Indian households, consumers are not so comfortable in making buying decision or final purchase online. Traditional media is the only way to reach out to people with such traditional outlook. Offline channels are a great way to making direct touchpoints with the end users. For mass promotion, offline marketing is ideal. The classification of TG also comes in play here. For rural or tier 2-tier 3 areas, offline marketing would always work better. For targeted niche campaign, we can turn to online mediums. But for products with mass appeal must be promoted through offline marketing to have visibility and awareness leading to sales. Therefore, offline marketing is still a great aid for brand solutions.
Offline marketing is still a strong pillar in 360-degree marketing
For the marketers, the million dollars question at this moment is whether to push online marketing or offline. While many talks in favor of online platform, there are also people who question its credibility as a suitable alternative to offline marketing. We at AmitKK, do not believe or encourage any such demarcation. We always take a holistic approach instead of limiting ourselves and consider 360-degree marketing as an ideal practice. So, when we talk about 360-degree marketing, how can we do away with offline marketing?
The line between online and offline is blurring.
Both these forms of marketing have its own uniqueness. Offline marketing has a lot to offer, from print advertisement, TVCs to outdoor, direct mails, events & activations. The direct connect with the users is the biggest strength of offline marketing. The interesting finding suggests that 40% of the users who search online, end up buying the product after getting influenced by offline channels. So, undeniably, offline marketing was, is and will be a strong pillar for marketing in the days to come.
We at AmitKK believe that your business is unique. We follow a unique approach and stay away from cookie-cutter offline marketing strategies. The challenges you face might be the same as other companies, but we understand that your goals are different.
Choose AmitKK for an impressive offline marketing service, as we do not just create advertisements, but instead, we work to build highly successful campaigns.
Looking for a marketing team that delivers amazing results? Get in touch with us right away. We provide offline marketing services along with online marketing services.
Offline Marketing Clients testimonials
"
Offline marketing has been at the forefront of our overall marketing strategy. Therefore, we have been quite selective about the agencies we choose. We have always believed working in multi-agency model until we got to work with AmitKK. They catered to all our offline marketing requirements and owned each entity as separate with equal importance. Highly recommended, especially if you are looking at focused offline marketing.
"
Prateek Suri
Sales and Marketing Manager
"
Tangibility factor of offline marketing is what makes it even more complex for the marketers to execute. We were tired of goof ups and damage control working with our previous offline marketing partners. We were in desperate need for an agency for launching our new product line and I remember one of our partners recommending AmitKK to us. It was the first time when our offline campaign went smooth and we saw an overwhelming response at the end.
"
Dr. Jacob
Owner - Shadanga
"
Our yearly brand campaign is about multi-channel marketing. For offline marketing like Activations, Roadshow, Sampling, Outdoor hoardings and others, AmitKK has always been a one-stop-shop for us. They precisely know what to do, when and how. The thing I most appreciate about them is that they are not a mere order taker, they put their thoughts into the project, come up with out-of-the-box ideas and even do not hesitate to contradict to any points suggested by us. AmitKK is definitely the best offline marketing agency in Delhi.
"
Vrinda Loiwal
Owner - CSEL
"
Online marketing has overshadowed the offline marketing in recent years. For a traditional company like ours, however, it still holds a lot of significance. I remember opposing the decision of higher budget allocation for online marketing and went against the tide to convince the management for offline activities. That quarter, I remember, offline marketing was the highest contributor to the revenue. I even remember receiving an appreciation mail from the VP. All the credit goes to Amit KK, a highly recommended offline marketing company.
"
Shrom Budhraja
Owner - Shake Buster
"
AmitKK is not just a service provider to us, over the time, they have become a part of our family. We count on them for the best solutions. No matter how small the budget, or the scale of the activity is, they always suggest the best fitted offline marketing strategy that delivers highest ROI. A highly recommended offline branding services company for every business.
"
Dr. Ankur
Owner - Whitesmile
Frequently Asked Questions
Looking for Offline Marketing? Let us help you by answering some of the most common questions, that perhaps cross your mind.
What is the process behind offline marketing?

Offline marketing is a process wherein marketers create brand awareness to consumers via offline marketing methods. These include usage of billboards, pamphlets, television ads, telemarketing, magazine prints and radio. The younger generation millennials access Facebook or online media. While older generation people still not understand how computers work. To cater to this kind of population, who are not aware of social media channels or online marketing, companies resort to offline marketing techniques too. They introduce their range of products and services via offline marketing methods.
Why choose offline marketing?

If you want the local people to avail your products or want them to start using your services, taking to offline marketing methods can yield you with quick and upfront results indeed. Via offline marketing techniques, you establish a great rapport with your consumers. This way, it can improve customer loyalty. Again, you help your firm in its brand building initiatives too. As people resonate with the businesses that interact with them rather than the ones that stand impersonal.
What are the benefits of offline marketing?

You can receive valuable benefits for you and for the brand when you take to offline marketing techniques. Pamphlets and print media can help you organize exhibition stands at a shorter notice. With exciting offers rolled out via television channels or invigorating ads, you build your loyal customer base. Exciting loyalty cards can be rolled out in the print and paper format. This way, you provide assurance to your consumers that you are giving them something tangible. Likewise, you have tremendous benefits on marketing your business via offline marketing techniques.
Why choose offline marketing for your business?

Before the technological advancements like introduction of Facebook or Google Plus, companies were using offline marketing techniques to promote their brands. Via television ads, you can create an immediate awareness on the product niche you are into. Consumers quickly grasp what products you are trying to sell at the marketplace. Whereas with online marketing, you must shop across sites to know if the products you are looking for is available at a premier quality. Offline marketing is more direct when it comes to selling products as compared to online modes.
What are the advantages of offline marketing?

You have several lucrative benefits when you apply offline marketing methods. Via print advertising, you convey a visible impression on products or services you intend selling to the public. Attractive pamphlets or brochures create that stunning impression on the minds of prospects to whom you distribute them to. They can immediately give you their leads or references. So, lead generation becomes easier. Again, you can organize promotions in a crystal-clear manner. When you pop leaflets or personalized letters into the post boxes of consumers, you can make them feel more special. This way, your consumers remain loyal to you until eternity. You can also include attractive vouchers or discount codes for new referrals. This way, you attract consumers even within crowded spaces.
What services are offered in SEO?

From strategy to execution & optimization, we offer end-to-end services from content, graphic designing, site audit, keyword research, competition analysis, backlinking, on-page, off-page SEO to transparent reporting, you name it we have it.
Why do you want to prompt your business via offline marketing?

As you all know, there are few consumers who are highly tech savvy. And, there are those who do not understand how social media channels work! You need to cater to the generic population too. Hence, always going online is not going to serve your marketing purpose. Again, if you look at offline marketing techniques, you have several modes to choose from. You have radio and television ads, magazines or newspapers, brochures, pamphlets, leaflets, business cards and a lot many. Therefore, even if one doesn't work, you always have the flexibility to choose another. Again, for those consumers who do not understand pure English, they may understand your niche better when you prompt ads in the local languages.
Blogs on Offline Marketing