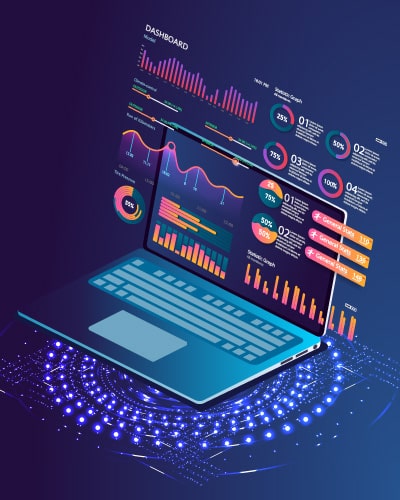 Website Development
A good website is the first pre requisites for your digital presence.
Website development incorporates a lots of factors like, language used, frontend framework, mobile responsiveness, user experience, page load speed and a lot more. A good website covers all these points to give the users a top of the world experience and helps him connect with the brand seamlessly. When developed well, a good website also acts like a round the clock salesman for the brand.
All our website development work is custom made with minimalist codes and libraries. We take pride in developing the perfect website that looks and feels perfect and is well placed to give you results in digital marketing. From WordPress to NodeJS AmitKK simply rocks and is the best website development agency.
Our style of website Development
These questions are asked and answered while developing the website.
Code Brevity
Just the amount of codes to make the website sleek and quick
Best UI designs
Top UI/ UX designs as per the business that attarct customers
Mobile responsiveness
Responsiveness on mobiles, tablets and yes on desktops too
Scalability
Our websites are easily scalable without breaking a sweat
Page speed
Websites developed by us cross 80 and have even clocked 100
Digital marketing perspective
We build websites with strong technical SEO base
What language and platform do we advise for website development?
Small websites:For small websites like a blogging website, I advise wordpress.
Wordpress has a very good content management system (CMS) which gives the users a lot of backend functionalities. Developing the functionalities in a custom way increases the effort, cost and delivery time which is not advisable.
I would also advice wordpress – woo commerce for e-commerce websites especially when they are starting new. Once the website starts generating you revenue or you get funded, go for other technologies.
I develop wordpress themes from scratch and do not use a plugin like – elementor for website development
Big Projects:For big projects, I would advise React JS as frontend and Node JS as backend. React and NodeJS are one of the best combinations possible. Considering the amount of work being done on them and the teams behind them, it is highly suitable for big projects offering you as much customization you might need.
This website too is developed with React JS and NodeJS
Website development clients testimonials
"
Working with AmitKK & team has been a pleasant experience. Their passion and dedication towards work, unparalleled client service is exemplary. They are open to feedback and understand the business needs quite well. Their creative excellence is worth the praise. We entrusted them with all our web design and website management related services. We look forward to long term association with the team. When it comes to companies doing website development in Delhi, AmitKK tops the chart.
"
Girish Wadhwa
Owner - Deli-Chic
"
A website is the window to your company. Knowing its importance, we could not just trust any web designing company for our requirement. After scrutinizing all their past work and industry feedback we decided to proceed with AmitKK which in my opinion is the best web development services in Delhi. They truly transformed our exiting website that embodied the true nature of business offering. All the members of the team are so skillful, knowledgeable, and creative. Every time I speak to them, I get a lot of insights. I rate them 10/10, without a second thought.
"
Dr. Jacob
Owner - Shadanga
"
We just launched our new website designed by AmitKK & team and they did a splendid job with our portal. It turned out exactly the way we wanted and was highly appreciated by all. The team is very easy to work with and stretch their limit to deliver the best output even under extreme pressure and tight deadline. They met all our expectations and became a reliable partner whom we can reply on. AmitKK is the website development company in Delhi, highly recommended.
"
Vrinda Loiwal
Owner - CSEL
"
Fantastic team that yields fantastic results and we experienced that while working with AmitKK, after years of unpleasant experience with various agencies. Their team is extremely professional and competent. They made our website look attractive with cost-effective solutions. From our brand logo to easy navigation and clarity, the design looks class apart. The best thing about them is that they do not act like mere executors and come up with suggestions and proactive solutions.
"
Rishi Kumar
Owner - Profiling
"
AmitKK helped us revamp our old website and that turned out to be the gamechanger for our business. With a lucrative website interface and support of SEO and SMO activities, we saw significant growth in our business in just no time. We started getting global footfall and ROI increased with relevant leads. The team helped us discover the loopholes in our previous website and addressed them with necessary enhancements. They provide outstanding services at moderate cost. We wish to continue to work with AmitKK in our future endeavors.
"
Dr. Ankur
Owner - Whitesmile
Frequently Asked Questions
Have any confusion on how to continue with your website development requirement? Let us help you by answering some of the most common questions people ask any website development company.
How much time-consuming it is to complete a website?

Designing a website depends on the complexity of the project the client has on hand. The client firm may hand over a project that is simple and just satisfies the basic protocols a website should. In this case, we can complete the project within 2-3 days. You will just have the overall outlay, basic plugins for operation and the requisite widgets a web page should have. For more complicated web designs and texture, the time taken would be over a month or so.

Even the best web development services take atleast 1 week to develop the frontend and then another two weeks to finish the backend
Can I select my preferred developer?

Yes, you can have your own developer design the website you have on mind. However, you must do your homework thoroughly. You can walk into our web designing office and chat with all the members of the developing team. All the professional, our firm has, will have an affiliation of having done a web designing course, or may belong from an engineering background. As your website will be done as teamwork, you can place your entire trust on our developing team. This is as against just picking one.
How can I track my project development?

We will share details of terms of the contract with you. You shall be given a soft copy as well as a letter in print. You will have details on how your project will take place in a phased manner. Our developing teams will have a live demo organized on their servers. In addition, via regular meetings, updates and calls, you shall be informed as to how the web development is progressing.

Companies providing website development in Delhi, will normally have a project tracker if it is a big project. For small projects, they make the project live on their personal server.
What are keywords?

Keywords are the phrases, ideas and topics that outlines the subject matter. Speaking of SEO, in order to find some information, a user enters relevant words as 'search queries' in the search engine. The presence of those words can help them find about you or your business. So, in a way keywords act as a bridge between you and your customer.
What are working hours of AmitKK?

We work Monday to Friday. The office is open between 10 am and 6 pm. You are free to walk into our office at any given point of time. We shall be more than happy to discuss the project details with you and finalize on the deal.

As a website development company, our maintenance services are always available ona call and we are not restricted to a particular working hour for urgent work.
How long will it take to develop my website?

The websites have various stages to go through. We must develop the overall outlay, insert widgets and plugins, frame content, test the speed and capability of the site. We have a lot more on our plate than what meets your eye. For a simple project, it takes anywhere between 3-7 working days to have the website up and running. For a more complicated or a bigger site, it usually takes at least a month for us to deliver the project to you.
What are the technologies used in web development?

The technologies we use depend on the project and your requirements. We deal with all types of platforms. Each website comes to us with its own set of requirements. Clients require us to customize sites based on the product catalogue and brand. For smaller sites, we use WordPress. For bigger websites, we use WordPress, NodeJS, React, PHP, Laravel, React JS, etc.
What is the most used web framework?

It is WordPress of course. You have in built web layouts, themes, plugins and widgets. You can download it free of cost. You can do a trial run on building your own site. You have a help center to go through. As a first timer, we do not want you to face the hassle. Yes, we would be designing WordPress sites for you from the scratch.
Which web development language is best?

All web development frameworks come to you with a set of pros and cons indeed. WordPress is for a person who has basic working knowledge of computers. For a professional affiliate, React JS and Node JS combo would work out the best.

Agencies doing website development in Delhi, are mostly fluent in wordpress, PHP and some of them have capabilities in frontend frameworks like React JS, Angular JS and Vue.
Is JavaScript the future of Web development?

Yes, it is. You have front-end frameworks like Angular, React, Vue, etc. While for back-end, you have NodeJS. Since JavaScript deals with multiple web frameworks, you can learn a lot about website building or web designing.

Any company doing website development in Delhi and does not work in these frameworks can be tossed aside and you can for surety that theyare not so good.
What is the first step in building a website?

We should get your requirement right. We just want satisfied and happy customers, end of the day. Hence, that is the first step or the building block for us as far as web site development is concerned.
Blogs on Website Development