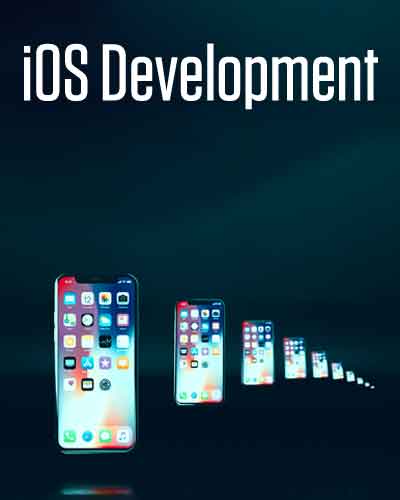 iOS App Development for Apple Devices
Work with us and get efficient applications for iPad & iPhone for companies of all sizes.
AMITKK is a well-established and renowned iOS app development company that helps our clients with a beautiful and efficient iOS application experience. Our experienced and dedicated developers also provide native Apple TV, iPod, iPhone, and Apple Watch. Our working professionals comprised years of experience in the developing field and worked with numerous clients. Our developers vow to provide the most efficient and quality iOS application development services, making AMITKK stand out from the rest of the companies.
Get the best iOS development expereince
iOS App Development Services
We at AMITKK offer client-centric iOS application development services to design and code the applications with a smooth and seamless experience for iPad, iPhone, and other Apple Devices. We also provide the best app backend and iOS widgets, and we make it so that all the widgets have the latest features that will work on all platforms.
Our team of motivated developers is well-versed in using all coding languages, whether Objective-C, UIKit, Dynamic backend, Swift, or custom API. Our developers know their work very well and know how to use the appropriate tools for app development which ensures growth.
iOS App Upgrade
Because technology is ever-growing and Apple is known for launching new versions of the iOS each year and new iPhone devices. You should choose a company that will perform the necessary updates when needed, as your iOS applications will need periodic upgrades to survive in the market.
By working with us, we are here to help you stay in the league. You will get additional new features and upgrade your application's compatibility to work on the latest version of iPad, iPhone, and other Apple Devices.
Fixing Bugs and Security
We at AMITKK keep your and the application security as our utmost priority to protect. Our working professionals develop the application's architecture and add security layers to prevent a third party from breaching. We assure our clients of our security as it is impenetrable.
Whether it is a rejected application from the Apple store, conflicts in the framework of the application, or buggy experiences in the application, our experts are in love with challenges. They will help you get the coding right and eliminate all of the issues and bugs in the application.
App Maintenance
When we work with our clients, we will offer them the services of efficient app development. We also frequent maintenance of the application to eliminate any issues and bugs before it causes any problem.
Whether it is the regular update of the content, tracking application performance, monitoring users, or any other factor. Our services are top-notched thanks to our experts who have years of experience in the field.
Our app maintenance services will keep the application updated for the users, which will keep the application performance at its peak.
iOS Development Spectrum
iPhone Application Development
We provide and build custom applications with flawless UI and seamless navigation with our iPhone app development services.
iPad App Development
AMITKK's working professional codes the applications for all screen sizes. We will optimize the placement, elements, and experience to make the most efficient iPad Devices applications.
iPod Application Development
Our services ensure the optimization for the iPod touch devices so the application users can access the iPhone application on the music powerhouse.
Apple Application Development For TV
We are aware of the latest market trend and users are fond of watching videos on bigger screens. Our services also include the app development of the Apple TV with an improved and enhanced user experience.
Apple Application Development For Apple Watch
We are known for building excellent applications for the apple watch, which helps the users monitor their health and stay connected via notifications and more.
Enterprise Apple Application Development
Our backend developers will help to extend the digital experience of iPhone and iPad devices. Our services will enhance the flexibility of your team with our reliable mobile solutions.
Consumer Apple Application Development
Enhance your brand loyalty with an iOS application running on Apple devices. We build applications for Apple devices that are functional, convenient, and full of great designs.
IoT Application Development
We build the top-notched iOS applications for a wearable with complex mechanisms along with sensors. We make applications to easily access and manage the real-time data in the IoT systems.
iOS App Development Process
We make our services unique and custom, which keeps the process personalized for the product. There are cases in which our services include:
1

Understanding and working according to the clients' needs.

Development technologies

2

App data flow to make the architectural design.

Add visuals and seamless user design for iPhone, iPad, etc.

3

Engineering code and managing projects.

Working with third-party APIs for web and iOS

4

Acceptance testing for automated and manual user acceptance.

Using best analytics tools

5

Launching application on Apple store

Improvising user data analysis.

Maintenance support for each product
Learn more about Android App Development
Want to speak with a Android App Developer?
Why Our iOS Development Is Different
Keeps Target Users In Mind
When designing applications for our clients, we keep one thing in mind, and that is conversions. AMITKK's designers use gutters and grids and innovative ways for carving applications to enhance users' experience.
Coding
We write codes from scratch. Our experts do coding on Xcode, Objective-C, and Swift for building applications. Our applications will adopt future up-gradation.
Performance
We ensure to make our services future-ready with sustained performance with the help of multi-thread and cache coding strategies for optimizing performance, consumption of GPU, and using a lesser battery.
Driven-Development
Our professionals work on test-driven development and use an agile method to develop applications for iOS to ensure quality and bug-free experience.
App Size
Our team uses their experience and knowledge to take minimal space on the users' devices.
We Turn Ideas Into Reality
mHealth
Enhanced delivery with iOS solutions
Applications Based On Location
Our services help to implement geolocation to enhance your services.
mCommerce
Enhance customer experience and improve your sales
FinTech Applications
Support financial services by incorporating iOS applications.
eLearning With Smartphones
We innovative applications to optimize and improve the learning
Productivity Of Enterprises
iOS solutions will enhance operational efficiency.
Mobile Social Networks
Get custom applications for better engagement.
Digital App Publishing
Administer the latest iOS technologies to work on content.
Enhance Sales
Get excellent iOS development to enhance sales operations.
Utility Applications
Make life simple, faster, smoother, and more accessible.
Communication Applications
Intelligent applications for streamlining interactions.
Why brands love our services
We have shared our experience with brands of all sizes, and we have provided our services to major industries.
Cost effectiveness Our development charges are very affordable and few notches below the market rates. We do not however compromise on the quality of the work and keep our standards high in delivery.
Focus on creativity and branding Not just any other platform, we develop a communication tool for you. The brand guidelines are kept in minds and our UI designers bring in their creativity.
45 Days Free Maintenance We will help you even after delivering your project. Get free maintenance services for 45 days.
Custom iOS Application Development We offer custom iOS App development services to cater to the needs of your business requirements. AMITKK provides application submission and posts publish maintenance and updates.
iOS App Consulting Our team of professionals ensures to give life to your ideas and design the best strategies to create an application explicitly for your business.
On-Demand iOS Development Services You will expand your team when you hire our experts with a strong background in the technical field and experience in delivering top-notched development services.
Other languages we prefer and suggest
Looking for a tech agency?
Frequently Asked Questions
Looking to hire an iOS app development agency? Let us help you by answering some of the most common questions, that perhaps cross your mind.
How Do You Make Applications For iOS?

Developing applications for the iPhone demands expertise, profound teamwork, and a strategic and transparent approach to the process. Before we publish the application, our clients will have to follow some steps. The steps include:

Choosing vendors for the IT, designing.
Validating the idea.
Developing the product for our clients.
Testing it.

Additionally, developing a successful product includes clearly defining and delivering to the team project requirements.
What Are The Coding Language For iOS Applications?

The common languages used for developing iOS applications are Swift, C++, Objective-C. Other than the coding languages, application development also includes toolsets like Apple Xcode or AppCode.

There is also a cross-platform approach which is an alternative way of building applications. It involves using JavaScript, C++, Java, C# programming languages and React Native, Titanium Frameworks, or Xamarin.

When opting for our services, our experts will advise the clients on a suitable approach for the business's requirements and goals.
Can You Design Your Application?

In today's time, businesses and companies are provided with countless opportunities to design an application for business purposes due to it being one of the most popular platforms. It offers a robust platform for companies to increase and enhance customer engagement, streamline business operations and provide better client services.

iOS development is an efficient niche for businesses because the platform ensures a high demand, excellent revenue generation, and significant market reach. Working with a trusted and reliable software development company will assist you in designing your application, all according to your business type and needs.
Do Our Applications Work on Latest iPhone Versions?

Yes, we are known for developing applications for powerful iOS platforms. Our experts develop the application to work on all the iOS versions seamlessly and with better UI. Our experts adhere to the requirements and needs of our clients and ensure to develop an iOS application in a way that will drive growth and ensure better customer engagement.

We also provide regular maintenance of the applications. Whenever there is a new version of iOS, we will update it to avoid facing any problems with the application.
Do You Sign NDA and NC Agreements?

Yes, we do sign all the legal contracts when our clients are hiring us. Our experts also follow strict rules on data security, and your data is 100% safe with our services.