Ecommerce Website Development Company in Delhi
We develop robust, beautiful and scalabel e-commerce websites.
Over the last few years, ecommerce has changed people's life. Covid-19 pandemic has made this channel a one stop solution for all customers. People now more comfortable to shop online than visit an offline store. In this digital world when everything has gone digital, then why not online retail store? Actually, most of the famous brands have already brought their retail stores online due to its extra ordinary advantages. The main advantage of ecommerce is that consumers get all products under a single roof and they can order it from anywhere anytime which obviously makes our daily life easier. Owing to its scope and scale, online store of a business helps to convert the online traffic into sales easily.
When it comes to build an ecommerce portal for a business, Amitkk is one of the top ecommerce website development companies in Delhi. We are known for our robust ecommerce solutions that has helped many businesses to achieve their online business goal. We ensure to deliver the best and user-friendly experience to your visitors as your business deserves the best.
Any ecommerce platform has the potential to offer a lot depending on how well you want to scale it. Before planning to build an ecommerce website for your business, it is very important to have a fair idea about its mechanism. In this article we have tried to collate all important things that one must know before starts an online business. So without further ado, let's get started with various ecommerce business models you need to understand.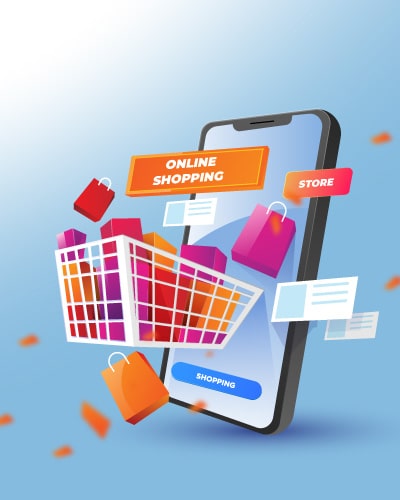 eCommerce Website Development Services
45 days delivery
AMITKK is the best eCommerce website development company in Delhi. We love developing e-commerce as it opens a whole new array of possibilities for us to explore and use our capabilities. From development to digital marketing to social media marketing, e-commerce uses our strength to the full.
We develop big e-commerce websites in either React and Node JS or either in Laravel. Both the technologies have their own benefits and are highly suited for eCommerce website development.
For small scale e-commerce websites, we use woo-commerce in WordPress which can have their own limitations or might use external plugins.
eCommerce Website Cost in India
Starting @ ₹ 60,000
The cost for an e-commerce website in WordPress starts from ₹ 40,000 and gets delivered in 15 days. This costs includes high customization of UI UX and fast page load speed. SEO for the WordPress based website are in built and makes your life easy.
For high end e-commerce website, we use either React & Node JS or Laravel website the cost for same increases to ₹ 60,000. In this technology, there is no limitation of any kind and the website is highly scalable. If you want to launch a mobile app in future, the same website can be used for it with little effort of creating the APIs.
Both woo-commerce and high end website have their own advantage and you need to understand what suits you best. In either choice, we promise you full satisfaction.
Why Choose us for eCommerce Website Development
E-commerce requires more than just development; it requires strong technological work to facilitate digital marketing. Our website development process ensures that user experience and digital marketing is kept on high priority. Some other reasons that will make you pick us to develop your website are:
All features like shipping, coupon, rating, comments, orders
Detailed Admin panel for admin, user, vendor
Multi-vendor system with all functionalities
In built SEO system for digital marketing
Complete blog and authentication system
02 months free maintenance
Freedom for scaling up
Support for Mobile apps in future
Business-to-Business (B2B)
Business-to-Consumer (B2C)
Consumer-to-Business (C2B)
Consumer-to-Consumer (C2C)
Business-to-Business (B2B)
As the name refers this type of B2B model businesses sell products to other business or companies that enhance the business of buyer companies. Software companies like Salesforce, Survey monkey comes under this category. The products which are sold in this B2B platform are for the benefits of other businesses.
Business-to-Consumer (B2C)
The online businesses which serve directly to the consumers fall under this umbrella. This model is very straight forward as they directly sell the products to the end users online. The businesses which come under B2C model are the online stores we all visit on a regular basis and directly purchase from them like clothes, makeup, books, grocery etc.
Consumer-to-Business (C2B)
C2B is a type of ecommerce business model where consumers can enlist their work or businesses and bid for the opportunity. Affiliate marketing service comes under this category of ecommerce model.
Consumer-to-Consumer (C2C)
It is a marketplace where a consumer can sell products to other consumers. There are few online tools like WooCommerce that allows consumers to exchange services or goods and make money out of it.
Earn Money with eCommerce Website Development
In this modern generation while online marketing is booming, nothing surprising if new companies pop out every day. This pandemic has actually made us realized the actual value of an ecommerce store. If you're planning to come up with your new ecommerce store, then first know how you can leverage your site for making money. Here are some tips for you!
Create creative content that drives consumers and for that first know what your consumers want from you. Then develop blogs accordingly which will attract the consumers to your site.
Promote shopping ads from the beginning to drive up sales. You can try your hands on Google shopping ads which are modelled for e-commerce websites.
Choose and invest in the right platform will help you to grow faster. Platforms like WooCommerce, Magento are very popular for building a powerful ecommerce site. You need to understand your business and the rate at which you will be scaling to finalize the right platform. Your website developer can help you in this process.
Utilize the benefits of SEM to boost your ecommerce sale. Choose relevant keywords for your business and optimize them to reach out to your target audience.
Use social media platforms that have special focus for e-commerce promotions like Facebook and Instagram.
If you find it difficult to do all these tasks on your own, then consider a company like Amitkk who will take all the responsibilities and leverage your ecommerce website to make the most out of it.
Technologies We use for eCommerce Website Development
In this digital world website or app has become very important for every business and organization. To create a powerful ecommerce platform, the latest web technologies need to be used that will help to make a practical decision. Let's check four advanced technologies that we use to develop ecommerce websites.
Magento 2This is the most popular and reliable platform for B2B and B2C business. The main advantage of Magento is that it allows you to easily integrate with third party products and services. It is SEO friendly and comes with many advanced features that make it popular among developers.
ShopifyA highly advanced and tech friendly web technology that allows the consumers to use bitcoins for their payments.
BigCommerceBigCommerce is popular for its user-friendly interface with several advanced features and functionalities like built-in blogging, improved SEO.
Woo CommerceWoo Commerce is an amazing platform that can be integrated with WordPress which enables sellers to sell their products rapidly and easily.
eCommerce Website Development for All Industries
We cover a wide range of ecommerce services for different industry verticals. Let's have a look at the industries we have been providing ecommerce services.
Grocery stores : We develop app for grocery stores covering from grocery delivery to field management.
Travel & Tourism : We develop app for travel and tourism companies which majorly covering flights and hotel booking, road transport services etc.
Restaurants : We have worked for many restaurants and food takeaway service providers.
Fashion & Clothing : By using latest interactive features like try on option, we have the record of building advanced app for fashion and clothing industry.
Jewellery eCommerce : Using AI and VI we develop user friendly highly advanced app for jewellery brands.
Looking for eCommerce Website Development Company in Delhi?
Looking for E-commerce Website Developers in Delhi?
Looking for E-commerce Website Developers in Delhi?