Your eCommerce keyword strategy results are significant since they determine whether or not your organic and sponsored traffic will suffer. Consider keywords as a homing beacon or a trail of breadcrumbs directing potential customers to your store. If you drop the suitable crumbs, you avoid attracting the wrong visitors and lowering your return on investment (ROI).
It is necessary to conduct keyword research to determine the terms and phrases that potential customers will use to search engines and social media platforms for themes connected to the niche in which you are selling. Besides discovering these keywords is critical for organic traffic, you can also leverage them to elevate your PPC campaigns and online marketing to an extremely high level.
Researching keywords for your website is a challenging matter, and it may be one of the aspects that transform your website from one that receives zero visitors per month to one that receives thousands, if not hundreds, of thousands, of people each month.
What is E-commerce Keyword Research, and How Does It Work?
It is the systematic process of identifying what keywords or terms potential buyers use to try looking up firms or items on the internet, known as eCommerce targeted keywords.
The ultimate objective of eCommerce keyword research is to improve sales rather than bring more organic visitors to the website.
Utilizing keyword research to scratch your customers' brains is the most efficient method. Don't be concerned; hundreds of paid and free keyword planners are accessible to assist you in your endeavors. Later on, you'll come to know a few of them.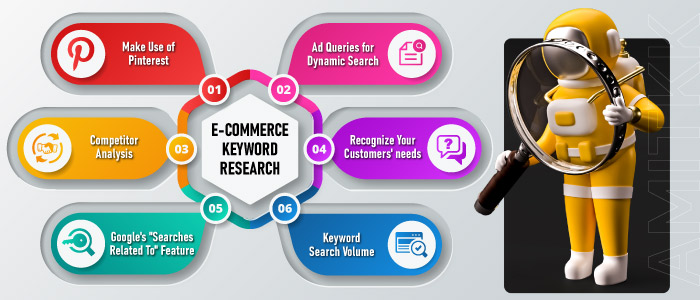 What it is and Why it is essential
Using Hummingbird, Google is moving closer to Semantic Search by deciphering the searcher's purpose behind keywords, their significance when used on webpages, or even how the keywords are connected.
Ad Queries for Dynamic Search
It can be challenging to think outside of the box at times, so why not hire Google to do the heavy lifting for you instead? Dynamic Search Ads (DSAs) use the strength of Google's organic web crawling capabilities to choose when to deliver your advertisements.
Putting together a DSA campaign is a piece of cake. You can include DSAs in a search strategy consisting of all features, but we recommend creating separate DSA campaigns instead. All that is required is the creation of dynamic ad targets that depend on the content of your website. Google Ads will use this information to compile a list of product categories for display advertising. Typically, if a site is perfect, there will be many categories.
Recognize Your Customers' needs.
First, learn about your target clients and their search intentions so that your keyword research may focus on finding terms that would draw them to your website. The most effective method to get started is to create a customer profile and sketch out your customer's experience.
Obtaining keyword ideas straight from your customers: To meet this objective, you must pay close attention to and monitor your target customers. Divide your keyword suggestions into groups once you've finished extracting them from your clients and are ready to go on to the following stage of the process. Each group must represent a distinct perspective and position on the goods and services you deliver.
Keyword Search Volume
When it comes to choosing keywords, search volume is the most significant parameter to take into consideration. Whatever the difficulty of a keyword to rank for, if no one searches for it in Google, it doesn't matter.
That said, determining how much search traffic constitutes "a lot" is impossible. It all comes down to what your market niche is. It is critical to understand search trends and the periodicity of your product since both will impact your bottom line. If you concentrate on keywords only looked for during the holiday season, you may find that you are not profitable throughout various periods of the year.
Google's "Searches Related To" Feature
While researching keywords with Google Search, remember to look at related searches. As an example, consider the Google search above. Below is a list of the associated searches that Google provides each other at the bottom of the first SERP. Using Google's Suggest tool is similar to receiving a cheat sheet from the search engine, including links to common searches. If you're looking for something specific, try searching for it on Google and then clicking on the " related " results.
Competitor Analysis
The ability to see what keywords your rivals are performing for is also an essential element of this study.
To determine which competitors to target, enter some of your top seed keywords into a search engine and create a list of the top 10 sites. Once you have these domains added, you can use software such as Ahrefs or SEMrush (there are plenty of others, but these are by far my favorites) to see all the terms they may be ranking.
Make use of Pinterest.
Pinterest is an excellent tool for understanding the semantic terms people use to evaluate your clients' items. With a stronger sales/retail focus than other social networking sites, it's also a great time to pursue keyword analysis for e-commerce websites.
If your customer has a Pinterest for Company account, suggest that they use Promoted Pins to find new keywords. Experts recommend launching a Promoted Pins strategy and choosing the pin that better describes one of your key terms from the pool of available options. From there, enter a word that is associated with the hook. A list of similar themes by Pinterest, which you can be used to generate outstanding ad group/keyword ideas.
After a while, eCommerce keyword research can seem daunting, but discovering the keywords that customers use to find what you are selling gets a lot less challenging to complete.
Regarding eCommerce keyword tactics, intent advertising and topical optimization are successful over and over again.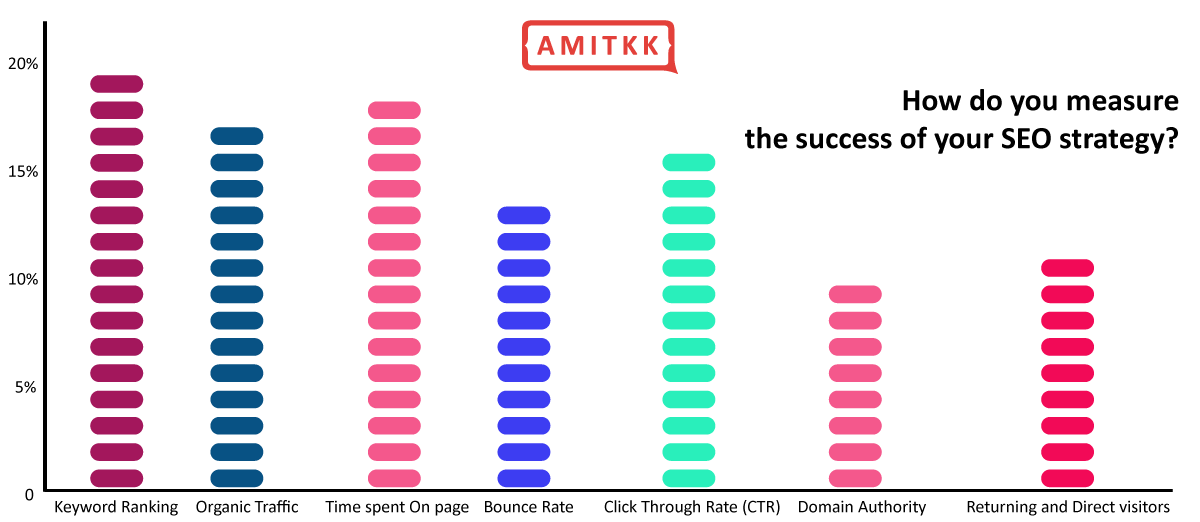 Things To Avoid While Making e-commerce Keyword Research Strategies
One of the most crucial elements of any e-commerce business is keyword research. Additionally, it is the foundation of any effective e-commerce marketing plan since it enables you to recognize potential clients' words and phrases while searching for goods and services. However, there are a few things that you should avoid while making an e-commerce keyword research strategy. These include:
Not Having a Clear Strategy
The absence of a straightforward approach is the first mistake to avoid when developing an e-commerce keyword research strategy. You'll be able to attain your goals and objectives by concentrating on the appropriate keywords. Therefore, it is essential to clearly understand your goals and objectives before beginning the keyword research process.
Not Analysing Your Competitors
Understanding what keywords your competitors target and how they use them to drive traffic and sales is essential. You can identify gaps and opportunities in the market that you can quickly capitalize. Keep an eye on what your rivals are doing and adapt your tactics accordingly.
Not Taking Advantage of Long-Tail Keywords
Long-tail keywords are precious for driving qualified traffic to websites. Despite having lower search volume than shorter keyword phrases, long-tail keywords are more niche and specific, thus making them a great way to target potential customers who are further down the purchase funnel and closer to conversion. Long-tail keywords give businesses an edge as they are more likely to deliver prospects that engage with their content.
Not Utilizing Keyword Tools
You may find the best keywords for your online store by using one of the several keyword tools. In addition, these tools can provide valuable insights into the search volumes, trends, and competition levels of specific keywords.
Not Utilizing the Google AdWords Tool
The Google AdWords tool is a powerful tool for keyword research. It can help you identify the most relevant keywords for your e-commerce business. Additionally, it can also help you analyze the competition for specific keywords. Therefore, utilizing the Google AdWords tool when creating your keyword research strategy is essential.
Not Utilizing Negative Keywords
Negative keywords are words or phrases you do not want to target. For example, if you are selling shoes, you may want to avoid targeting the keyword "free," as this will likely bring in traffic that is not interested in buying shoes. Therefore, it is crucial to utilize negative keywords when creating your keyword research strategy.
To guarantee that you focus on the most productive keywords for your e-commerce business, you should avoid the above mistakes while conducting your keyword research. Additionally, you will be able to identify gaps in the market and capitalize on them. Ultimately, an effective keyword research strategy will enable you to drive more traffic, conversions, and sales for your e-commerce business.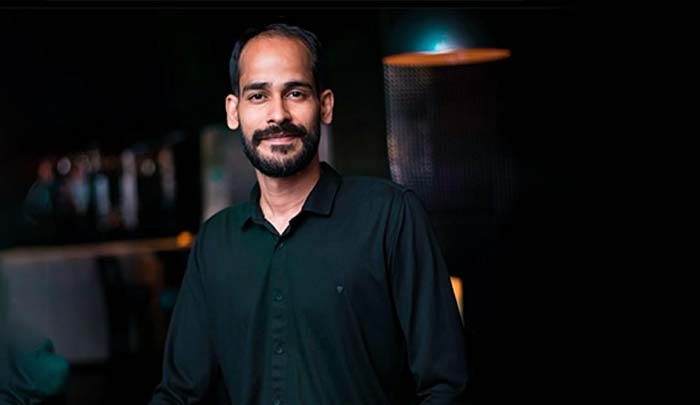 Author: Debashish
When Debashish is not playing games, he writes and when he writes there is no one like him. His understanding of the way things works out in real world and the role of probability in them is unmatchable.
"
Feel free to use images in our website by simply providing a source link to the page they are taken from.
-- AMITKK
"
Share views on The Best eCommerce Keyword Research Strategies You Must Follow
Please keep your views respectful and not include any anchors, promotional content or obscene words in them. Such comments will be definitely removed and your IP be blocked for future purpose.