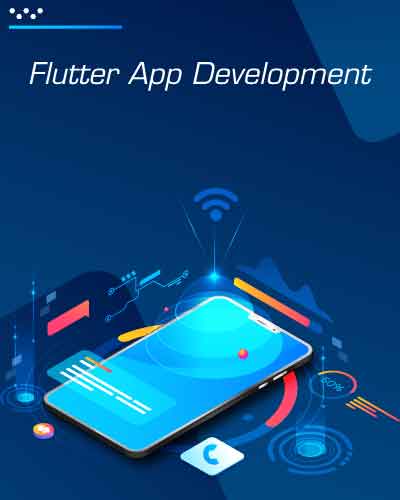 Flutter App Development
Flutter based development is the best choice to develop your mobile applications.
Google Flutter is an open-source platform for application development. Being a product of Google, Flutter supports Android application development. Additionally, developers can build cross-platform applications using this framework. From iOS to web applications, Flutter has been popularly used for developing different apps.
Today, Flutter is one of the most reliable cross-platform application development frameworks. We ensure swift and affordable mobile application development service on this well-known app development framework.
We use a single codebase for Flutter application development. Our Flutter cross-platform application development solution ensures no bugs, seamless performance, and a high return on investment (ROI). Overall, we commit functionally rich, visually appealing, and chart-topping application development solutions using the Flutter framework.
We are a professional application development team with years of experience developing cutting-edge native Android and iOS apps. In addition, our developers are well-versed with different kinds of native and hybrid application development platforms, including Flutter.
Why Should You Develop Flutter Apps?
Depending on the requirements, companies must choose the application development frameworks. If you are not sure about using a specific application development framework, we will provide a consultancy service. Our team is poised with technical knowledge and expertise to provide the best suggestions on choosing the right app development platform depending on your business requirements. Find some of the reasons to choose Flutter application development.
Budget-FriendlyWe recommend Flutter development if you have a low budget. Since Flutter supports a single codebase, it reduces efforts on developing and testing apps. Thus, apps developed on this platform are cost-effective.
Satisfactory PerformanceDeveloping native apps through Flutter is a satisfactory experience. Flutter does not require a bridge to communicate the underlying operating system. Thus, the performance of such apps is effortless.
Older Version SupportFlutter has a robust rendering engine, which assures compatibility with various cross-platform tools. Thus, Flutter apps can remain compatible with an older version of Android and iOS.
Hot ReloadThe Hot Reload feature of Flutter allows developers to notice quick changes in the code on a simulator. Thus, developers find convenience in developing apps on this platform. The overall cost of development reduces for this reason too.
Desktop App SupportFlutter is a unique application development framework, as it provides desktop application support. Using Flutter for Desktop, we can produce applications for Windows and Mac OS.
Web SupportDevelopers can import the Flutter codes on the web browser, making the development process even more convenient. We can render a faster development service on Flutter for the web support of the framework.
Learn more about Flutter App Development
Want to speak with a Flutter App Developer?
Why Us for Flutter Development?
Experience and expertise are the two pillars of our success as a Flutter application development service provider. We offer custom application development services at a realistic budget. Nevertheless, our developers ensure fast and flawless service.
UX and UI
We give special attention to the interface and user experience to developing Flutter applications. A business app with powerful UI and UX brings an excellent ROI (Return On Investment).
Native Performance
Our developers deploy hand-code Dart to incorporate the Flutter widget for cross-platform compatibility. We assure effortless native performance on both iOS and Android operating systems.
Fully Tested
We assure fully functional and tested applications. Our Flutter applications will be free of bugs and glitches. They will provide seamless performance without causing any interruptions.
Scalable Applications
We develop the applications keeping the future of your business in mind. A scalable application is essential as businesses grow and gather more data with the advent of time.
Low Maintenance
Small enterprises want applications that need low maintenance. We develop such Flutter apps so that your business can avoid the costly maintenance cost. In addition, our custom apps will require minimal attention to maintenance.
Flutter Animation
Animations make the applications more interactive and effortless. We have a dedicated team of developers who specialize in Flutter animations. Therefore, you can get a seamless animation user interface solution from us.
Our Flutter Application Development Process
We follow simple and systematic steps for Flutter application development. We have years of experience in developing mobile and web applications for businesses. Through our knowledge and experience, we assure satisfactory and budget-friendly solutions for the application development service seekers. So, how does it work? What is the process we follow for Flutter app development? Find answers to these questions below.
1

Understanding the Requirements

Why do you want to develop an application? What do you expect from the application? Getting answers to these questions is crucial for us, as understanding clients' requirements is a top priority for our developers. We understand your requirements to ensure a custom app development solution.

2

Development Approaches

On the next step, our team decides the development approaches for the applications. Depending on the requirements of clients, the approach to developing an application may vary. Since we assure customized solutions, we take different approaches to meet the requirements of clients with precision.

3

Wireframing

The next step is wireframing, which creates two-dimensional layouts of the applications. Developing the layout or interface of an application is the most important thing. We also develop the plan for application data flow and data architectural design in this stage, along with wireframing.

4

Coding

The next step is dedicated to coding. Our experts have done both backend and frontend coding. Experienced and skilled programmers develop the codes for the applications. Thus, we ensure an application development service that features no bugs. We have a dedicated team of programmers to complete the coding process quickly.

5

API Integration

In the next step, we integrate API with your mobile or web application. An application becomes fully functional through API integration. Moreover, API integration ensures that the application will serve the purposes of businesses with perfection. We have a dedicated and experienced team for completing such tasks.

6

Application Testing

An application development process is incomplete without application testing. We have a dedicated team to perform application testing. Our team inspects the bugs and fixes them to enhance the performance of the app. Moreover, they check the compatibility of the app with different OS.

7

Security and Analytics Tools

The next step is integrating the security and analytics tools with the applications. Integration of these tools is crucial for business applications. For example, business owners can make business decisions depending on the analytics reports. Similarly, security patches and tools are installed to enhance the security of the applications.

8

Publishing the Application

The last stage of the application development process is publishing the application in Google Play Store and Apple Store. For publishing an application, users have to follow certain protocols. Therefore, we ensure that all standard protocols are followed while submitting the app for publishing in the Play Store.

9

Support and Maintenance

Application development is a dynamic field. Thus, support and maintenance are essential parts of this field. We offer application maintenance services throughout the application life cycle. In addition, we update the security patches to add new features to ensure the application stays relevant to your business with changing times.
What Do We Offer in flutter app development?
We offer a customized native application development service of Google's Flutter, an open-source platform for mobile application development. From developing to maintenance, we offer end-to-end services. Find out services at a glance below.
New Flutter Application Development Develop a new Flutter app with us at the most affordable cost. We assure an effortless user experience and an attractive user interface for your application. Developing a quick-loading app that requires low maintenance is our commitment.
Revamping the Existing Application If you already have a business application developed on Flutter, we offer a revamping service for your existing app. We fix all the bugs, glitches, and other drawbacks. A newly revamped app will make a significant revenue contribution to your business.
API Development and Integration We specialize in meeting the specific requirements of our clients. Our team offers custom API development for the Flutter mobile applications. Along with developing the API, we also provide an integration service.
Support and Maintenance Facing technical glitches is not a big worry now, as our team is accessible 24/7 to assist with support and maintenance for Flutter applications. We assure quick bug fixing and periodic maintenance to keep the apps secured and fast performing.
Other languages we prefer and suggest
Looking for a tech agency?
What Makes Our Flutter Applications Different?
Since Flutter is a popular web and mobile application development platform, finding developers for Flutter is not a big deal for the service seekers. However, not all developers can provide the most satisfactory service. If you want a seamless application development service on Flutter, we are here to meet your requirements. We offer customized solutions with the assurance of the following things.
Custom UI
The application interface is crucial, as we develop the interface as per your requirements. Rendering a visually attractive and interactive user interface is our commitment. In addition, a seamless interface enhances the return on investment (ROI) of the applications.
Scalable
With the advent of time, your business will gather more data. Thus, the application database management will require a higher space. Therefore, we develop scalable applications which can be scaled to fit any data size.
Test-Driven
Every application we develop undergoes strict testing guidelines. We test the applications and ensure they provide optimal performance. As a result, Test-driven applications show minimal glitches to the users.
Easy to Promote
We follow all security protocols to make an application qualified to be featured at Play Store. All apps are developed keeping the promotional aspect in mind, and they are SEO-friendly too.
Our Expertise
We have a passionate team of application developers. The team possesses excellent knowledge in developing native and hybrid applications on various development frameworks. As an experienced and reputed Flutter application developer, we offer the following services.
Consultancy
Do you want to develop a business application on Flutter? We can provide step-by-step suggestions with precision. From cost estimation to the return on investment, we help you, clients, a transparent and realistic consultancy service.
Security Enforcement
Your existing Flutter application may not have the latest security features. We can enhance the security of the applications through our security enforcement service. In addition, we follow Dart's encryption library for building Flutter apps.
Desktop Development
Flutter is not only a platform for applications development for handheld devices. We can develop desktop applications for your business using this app development framework.
Web Application Development
We also develop web-based applications using Flutter. Our cross-platform web applications will be accessible using any standard browser. High performance from the web apps is assured.
Embedded Devices
Our team is also competent to render Flutter development services for embedded devices. You can run these applications on embedded computers. Customized application development service is assured.
Revamp and Maintenance
Your existing Flutter web or mobile application may need a professional revamping solution. For such requirements, you can contact us. Our developers offer seamless revamping and maintenance solutions.
Frequently Asked Questions
Looking to hire a flutter app development agency? Let us help you by answering some of the most common questions, that perhaps cross your mind.
What is Flutter development?

Flutter, a well-known application development platform, supports the programming language Dart. The open-source framework is suitable for developing cross-platform applications. Since Flutter is a product from Google, enterprises can trust this framework to develop their business apps. We offer both Android and iOS application development services on Flutter with the assurance of effortless native performance and high-end security.
Flutter Vs. React Native – which is better?

React Native requires a bridge to interact with the underlying operating system, while Flutter does not require the bridge. As a result, Flutter apps perform faster. Nevertheless, they are more budget-friendly. For all these reasons, enterprises prefer Flutter over React Native.
Can I migrate my existing business app to Flutter?

Our developers can add Flutter modules to your existing native Android or iOS application. However, a feasibility check is essential. Contact us for a feasibility check, budget estimation, and other relevant consultation in this regard.
Can I build a budget-friendly app with Flutter?

Flutter is popular among small enterprises for rendering budget-friendly development solutions. We can assist you in obtaining a seamless business app at an affordable budget.
Do we develop an application backend?

Yes, we also develop an application backend for your Flutter applications. Along with developing the application backend, we offer custom API development and integration service.
What are some of the popular apps developed on Flutter?

Google Flutter is a well-known framework for cross-platform application development. Since it is a product from Google, developers can rely on this framework's performance and security features. In addition, many professional and well-known companies use Flutter for developing their native business applications. For example, Google Ads is developed on Flutter. Some other examples are Birch Finance, Hamilton, Xianyu by Alibaba, and many more.
What types of applications can be developed using Flutter?

Flutter is suitable for developing cross-platform applications for different platforms. You can develop both mobile and web applications for your business using Flutter. We can deliver Flutter development for embedded computers too.
What is the cost of developing Flutter apps?

Developing web or mobile applications on Flutter is not a matter of a high expense. Flutter is a framework suitable for low-budget application development. Consult with our team and tell us your requirements. Understanding your requirements, we can render you a quotation for the cost estimation.
Will Flutter apps be compatible with both Android and iOS?

Yes. We can develop native mobile applications that are compatible with both iOS and Android operating systems. Not only mobile applications, but we can also develop applications for the web using the Flutter development framework.
Do we provide a Flutter app maintenance service?

Yes. We offer a contractual maintenance service for Flutter applications. You can make contracts on flexible terms with us. We will deploy a dedicated team for the application maintenance job. The team will monitor the application's performance regularly and make necessary changes to keep the performance optimal. Nevertheless, we keep updating the security patches to ensure that data stays safe.