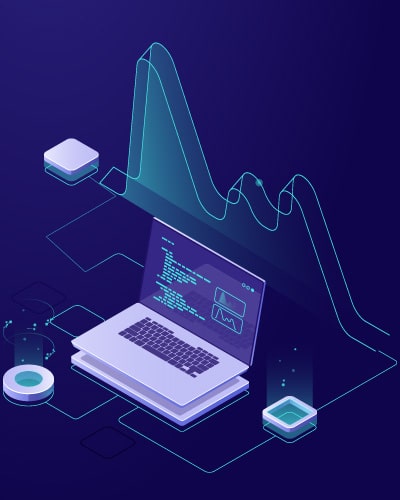 React Developer in Delhi
The leading frontend framework. The future is here.
We are amongst the top react development company in Delhi, with strong expertise in connecting React JS with any other framework including Node JS. We develop beautiful custom projects in React ranging from simple blogs to high end websites. Any kind of functionality can be easily developed and executed in React JS with a lot of ease and speed.
Having a website without using any of the three major frontend frameworks is a sin. It is akin to not keeping up with the latest technological trends in website development. React JS along with two other frontend frameworks, Angular JS and Vue have truly revolutionized the world of web development.
React is the future of website design and development, and you need to check whether your website uses this technology or not.
What makes us the top React development company in Delhi?
We develop all kinds of websites easily in React JS
Regular Websites
ReactJS is good for the regular corporate websites too
Ecommerce Website development
Ecommerce developed in reactJS give impressive performance
React JS based mobile App development
React Native us used prominantly for developing apps
Online Test Series
Dynamic test series that make every test a surprise
Blog Systems
Easy blog system giving top of the world experience
Support and future maintenance
Easy annual maintenance plans for you
Advantages of React
Since React uses virtual DOM, the page renders very smoothly using less time. This improves the user experience and SEO results. The data gets shown in real-time without the need for the page to reload. On Facebook, when you like a post, the number increases immediately without having the page to reload.
That's React for you in a nutshell.
Users and developers need not worry about the lazy loading of icons on the page, nor do they need to blame the hosting or the internet provider for slow speeds. Some of the advantages of using react are:
Highly improved user experience
Stable code as data flows in one direction
Easy availability of react and redux tools for development
High productivity rate and easy maintenance
String backing by Facebook and coding community
Absolutely yes! You can have the best of both worlds, and we can help you with that.
Using Wordpress and react, you can still use the awesome admin panel, blog system, and the woo commerce system of Wordpress. Wordpress as CMS and React as frontend is a good combination for small to medium businesses that are not looking for high functionality in the websites.
What is possible in React and Wordpress combination?
Regular pages of any design
Complete blog system
Forms and mails
Woo commerce plug-in and functionalities
Yoast SEO plug-in and functionalities
And more
If you are looking for extended functionalities like sign up and log in, user-based actions and inputs the combination of Wordpress and react is not advisable due to limitations of Wordpress itself.
Projects developed in React
All the below projects have a detailed admin panel with key features like Blog systems, authentication system and SEO tools in it. With the SEO tool, the webmaster can change the Meta tags very easily.
1. India Enigma
The travel-based web portal has React JS as frontend and NodeJS as backend. It has a detailed admin Panel with functionalities like Authentication System, Blog system, pages creation and updating among others. Made in a month, the website ranks on 300+ keywords.
2. Study Spectrum
This educational website can be the pride of any react developer. It has a test series module with a detailed admin panel. Some of the features include Profile creation and updating, lots of filters, and a video panel.
3. Car Diagnose
This react, and Laravel based website was built in record 15 days. It has functionalities like custom rate card design, blog and Authentication system.
Are you looking for an expert and experienced React JS developer to design your website? If yes, your search ends right here!
Learn more about React JS
Want to speak with a React JS developer?
Why hire us for React development?

Unique Frontend
Quick delivery
Mobile responsiveness
Delivery as promise
SEO Approach
Good Coding
Long term approach
Honesty
We keep the aesthetics fresh and unique, keeping the colors and fonts of your brand in mind.
React for bigger Projects
React is highly suitable for big projects for the "Single Page Application" way of handling things. Combine React JS with Laravel and you have a very good system to build anything you want. With React JS, the development process works very fast and you see modules getting developed at an incredible pace.
We also have Node JS Developers to build the backends for the project.
If you are looking to hire a react development company in Delhi, we are the best fit. Give us a call today to discuss your requirements.
Frequently Asked Questions
Planning to hire a react development agency and do not know much about it? Let us help you by answering some of the most common questions, that perhaps cross your mind.
Why React JS should be your first choice?

React can make your UI designing easy and simple. React JS is built across an encapsulated platform wherein you can write free source codes or programs of your own. The component logic is converted to JavaScript. This means, you can easily pass rich data through your app without getting through with numerous filters. You can also develop new features on React JS without rewriting the exiting code. As it calls for a much better user experience, React JS must be your first choice.
What is the platform you would choose?

The platform we would opt for, depends on the complexity of the website you intend building. For smaller sites, we use WordPress. If your website is a bigger one and you want to tuck in huge protocols, then we use React and Node JS. The time taken to develop plush sites would also be longer.

As a leading react development company in Delhi we prefer using React JS as frontend and Node JS as backend.
Do you work according to my time zone preferences?

If you are staying in a different geographical domain as compared to where we stay in, that should not be a constraint at all. We make sure we deliver projects on time. We can adjust our manpower accordingly. After all, your satisfaction is our pride!

Reactjs development services are just like any other website development service and can work easily in remote mode and still deliver on schedule.
Can I hire a developer from react development company?

Yes of course, you can. You can have a word with our team. We are available online 24/7. Based on the proficiency and expertise of the team, we will have the right person to have the work done for you.

Agencies doing react development company do not generally loan out a developer as such but they will definitely allot one for your project. You might not even need to connect with a developer if you have a good account manager.
Why choose React JS for your website development?

Many users want a simple website to manage their accounts or daily activities in a hassle-free manner. So, a WordPress site would suffice. In case of a business development program, we must design the website with all the metrics covered. We must build a web outlay suiting your brand. We should create a home page with the relevant hyperlinks. We should create blogs to elevate brand awareness. We should design personalized shopping carts or payment gateways. We should have data security or firewalls done in an encrypted format. React JS would be the ideal choice as it can take in complex UPIs under its realm. Hence, it is the ideal choice you choose a model based on React JS for your business development projects.

A good react development company will always emphasize on using ReactJS as the fontend as it improves the user expereince tremendoulsy.
Looking for mobile app development company in Delhi?
Connect Today