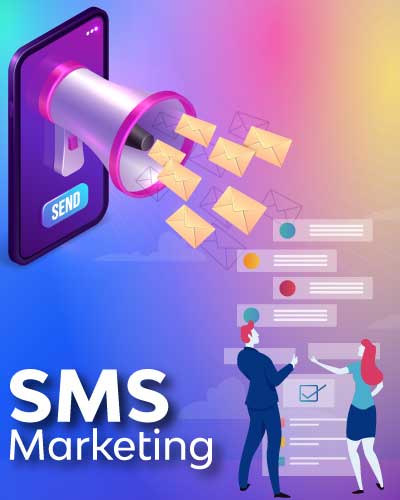 SMS Marketing Services
AMITKK is a renowned and well-established company that powers SMS marketing for countless leading industries
Promote and strengthen your brand via SMS marketing services. Our SMS marketing services are the most efficient and economical way of targeting potential clients on smartphone devices. They are from a campaign set up to schedule for the messages from sending to reporting. Our experts are SMS service providers who will provide an efficient marketing method to promote business with just a click. We believe that sending bulk messages is better than sending them to individuals. However, it eats loads of time, and the process is also highly lengthy. We at AMITKK promise to provide the most efficient SMS marketing services at the best price. We are known for offering a discount to our clients based on the plan they choose. We also offer monthly and yearly packages for our clients.
Advanced Texting Features
We are a business text messaging software that uses innovative ways to enhance business growth. Below are the industry-leading features:
97% Open Rates
We help you reach 98% of the audience within 3 minutes of sending your mass text message.
100% Prefer Texting
Texting is the most preferred way to communicate, whether for friends, family, or businesses.
4 billion Phones
Most people around the world own a cell phone. No other marketing method offers better access.
Routes for SMS Marketing?
We have varieties of SMS routes that you can choose according to your business need, whether for consumer engagement or Bulk SMS Marketing. Get the best services here to provide the best services.
Promotional SMS
It is for businesses to send offers and promotions to their potential and existing customers. Our experts configure it for all new signups. We deliver the SMS to opt-in and DND numbers only anytime between 8 am to 8 pm. Contact us for the free trial.
Business SMS
Without any cost, we will help you to send any business SMS without any hassle. Our partnership with the reputed company and intelligent routing technology makes us stand out from the other companies. Our SMS gateway assures our clients of the best-in-class delivery rates for both SMS alerts and Bulk SMS.
Transactional SMS
You can use this transactional route to send transactional SMS such as OTPs and back alerts to registered users. We will give you your 6-character Sender ID with which you will be sending IDs. You will need to create an account contact SMS world for configuring it. There are not any set-up fees for it.
International SMS
Our services are a highly efficient method for promoting products and offers globally to all consumers beyond the borders. Our international SMS campaigns will help our clients send global messages to their overseas audience regardless of the network provider they use and the time zones in which the customers live.
SMS Marketing Process
You do what you are at best in, and we will take care of your business text messaging required for your business growth.
1

Free Sign Up

We do not ask for credit. Instead, you will get access to more than 30 advanced features, making us stand out.

2

Upload Contacts

Work with our customer success manager and ensure that you know all about us and our services.

3

Start Sending Messages

Send SMS texts messages and MMS pictures free of cost. You can rest assured and track your performance.
Build A Great Bond with Your Customers
Your business texting platform is amongst the best ways to show new customers and clients you care and keep your business at the top of their minds. Check-ins messages and gratitude notes are the tips of the iceberg of how we can help your business to build stronger relationships.
Learn more about SMS services
Want to speak with a SMS marketing expert?
What makes us the best SMS Marketing Service?
We Are the most trusted, powerful, easy, and reliable SMS Service Provider with the best SMS gateway
Advanced Dashboard
Get a quick review of the complete message status, sender ID, configure, and template in real-time. With our services, you will check the number of credits on a single day, weekly, monthly. You will also be able to check messages for the previous month. So make the experience appealing for all users.
Customized Messaging
Our services allow businesses to communicate with customers on a personal level and offer effective messages. With our customized messages, you will be able to send messages by mentioning custom fields such as mobile number, message template, customer name, and many other things.
Multiple Sender IDs
Manage and create several sender IDs with our efficient web portal. We help businesses build brand awareness and promote brand visibility with send IDs those customers are familiar with. Our working professionals know what they are doing and work professionally.
Analytics and Reports
Our graphical analytics will help businesses see the number of messages we have sent, delivered hourly, monthly, and weekly.
Bulk Contact Upload
Our services will send more than 600K contact in a single batch via bulk upload. You will know about the file upload process and get Information almost immediately about pending SMS yet to be sent.
SMS API
Our SMS API at AMITKK lets our clients send messages in bulk offers, offer updates for transactions, manage contacts, etc. You will get all the benefits with our services. Our SMS gateway routing ensures best-in-class delivery.
24*7 Support
You can contact us whenever you want to, and we are more than happy to help you help your clients with any questions or doubts. AMITKKs customer service team is always contactable, along with the assurance of faster resolutions to the questions.
Multiple Language Communication
We help companies connect with their customers better by sending messages globally in their preferred languages with the help of Unicode messages and send messages.
Triggering Auto Responders
Two Way SMS
Initiate the client communication by letting the customers respond to the mass messages. With our creative and innovative inbox feature, you can see that customers will reply and respond to the messages individually. There are no efficient ways for businesses to offer top-notched customer service with a real and measurable impact.
Mass Group Texting
You can use our seamless and functional AMITKK user interface to blast urgent messages to all subscribers at once with the bulk message. It is perfect for urgent Information and requests. You can write mass messages and send them in seconds.
Upload Contact List
If you use another business text messaging software, you do not have to provide the contact list to switch to another provider. With AMITKK, you can upload the contact list within seconds. All you will need to do is upload the Excel file of the opt-in contacts, which will be added to the account. Our services are like magic.
Zapier
With this integration, AMITKK allows your business to share the SMS marketing data with more than 4,000 business applications you are using already. HubSpot, Facebook, Salesforce, and Intercom are some of the tips of the iceberg to integrate your key business applications with the text marketing strategy.
Unlimited Contacts
Our services are known to help you grow, and we will help you to greater heights. In other words, you will get unlimited contacts, whether it is in the thousands. With unlimited contacts, you can contact customers worldwide.
Frequently Asked Questions
Planning to hire a SMS Marketing service and confused how to go about it? Let us help you by answering some of the most common questions, that perhaps cross your mind.
Can I Add Images in My SMS Messages?

In SMS marketing services, you will not be able to add images, but with our MMS services, you will get the freedom to add pictures such as GIFs, Emoticons, Images, etc.
What Should Be the Tone in Messages?

SMS is a general communication channel in our lives, so using a casual tone is the most appropriate tone. However, using a professional tone with SMS may not sound appropriate and may not sit well with the promotion.
Is SMS Marketing Right for Your Business?

For most businesses, SMS services are the best way to increase brand awareness. It is an efficient, affordable marketing tool that helps to complete customers' desires.
Why Should I Choose Text Marketing?

Text messaging is one of the most robust, strongest-performing digital channels. It has an open rate five times greater than email marketing and 20 times greater than app notifications.
Is There Any Optimal Time to Send Messages?

Yes, there is, more essentially, there are good and bad times to send the messages. It would be best if you opted for midday to be considered for those who are awake and are sleeping, and it is essential to consider the difference in time zone.
SCHEDULE YOUR MEETING
Have a project in mind? Want to work with us?
Set up a meeting and tell us about your business needs.
Let us help you reach your goals.
Our Offices
Gurgaon
Second FLoor, 1172, Sector- 45, Near DPS School, Gurgaon, Haryana- 122002
Rewa
HIG 3/11/152, Infront of Anand Park, Nehru Nagar, Rewa, M.P - 486001
Mumbai
Sar Park view, B 602, Plot- 31 & 45, Sec- 30, Kharghar - 410210