WhatsApp Marketing: While networks like Twitter and Facebook presumably already form part of your social networking strategy, WhatsApp could also be significant to your brand. That's right: WhatsApp isn't simply for your colleagues or a video call in another town. You can also use it in companies.
Specifically, with small business owners in mind, WhatsApp is currently the best application for advertisement and business. It lets you immediately contact and support your consumers with customized customer care. We're going to investigate why this can be a good option if you have never considered including a WhatsApp business account in the social strategy of your firm.
For Commercial or Personal use, People use WhatsApp because:
It is free. Data roaming costs are the only charges you may receive.
It is trustworthy. Until you have linked to a wireless Internet connection or mobile data, WhatsApp allows you to communicate with users worldwide.
It is widespread. In 180 countries, there are WhatsApp users.
It's not only a matter of the text. For voice messages, calls, and video conversations, including exchanging images, videos, documentation, or location, you can utilize WhatsApp.
What is the Best Way to use WhatsApp for Business?
Even though only 4% of WhatsApp users in the United States downloaded the app to follow brands or companies, there is still a lot of value in using WhatsApp for business. It includes specialized solutions to help you interact with your clients.
You'll need a WhatsApp Business account to get started. Follow these simple step-by-step instructions if you don't already have one.
What is the Procedure for Setting up a WhatsApp Business Account?
For Android or iPhone, get the WhatsApp Business app: The app is available on the App Store and Google Play, or you can download it directly from WhatsApp's website.
Acknowledge and accept the terms and conditions.
Enter the phone number of your company.
Fill up your personal information: After entering your phone number, use routed to this WhatsApp page. Fill up the necessary information, such as your company name, a profile image, and a category that best characterizes your company.
Find out more about WhatsApp Business Tools: You can learn how to build a product catalog for your eCommerce store or set up automatic messaging in the next stage. Alternatively, you can skip the lesson and go straight to the settings.
Ensure to provide more information about your company before moving on to sophisticated capabilities like automated messaging. You can manage addresses, hours, and websites in the Business Profile category of settings.
Now it's time to start interacting with your consumers: That concludes our discussion. You may start using the messenger app to connect with consumers now that you know how to register a WhatsApp account for your business.
So, as a Business Owner, Why should you utilize WhatsApp?
Improve the Quality of Your Client Service: With a WhatsApp Business account, you can improve the efficiency and personalization of your social media customer care. WhatsApp Business includes numerous capabilities that you may use to enhance contact with consumers, in addition to functioning as a channel for direct messaging:
Quick Responses: Create shortcuts and save answers to frequently asked questions as templates. It will allow you to reclaim the time you would have spent typing out answers to frequently asked queries. In addition, your consumers will receive speedier responses to their questions.
Labels: Labels help organize and categorize users and messages. It will allow you to prioritize messages and detect returning consumers. You can use pre-programmed tags or develop your own that are relevant to your company.
Greeting Messages and Away Messages: Set up these automated messages so your consumer receives a response immediately, even if you can't. If a consumer contacts you outside of work hours, this is a beautiful approach to set expectations for response times.
Furthermore, communicating with overseas customers via WhatsApp Business is simple and inexpensive.
Create a Catalog to Showcase Your Products.
You might compare the catalog option in WhatsApp Business to a mobile storefront. It allows clients to look at your products without leaving the app.
This feature can highlight new products, seasonal collections, or best-selling items.
Here are some essential details regarding the catalog:
You can upload a total of 500 products or services.
A title, price, description, product code, and link to the product on your website for each product.
There is an image for each product.
In WhatsApp discussions, you can exchange URLs from the catalog.
Make contact with coworkers or employees: WhatsApp Business is more than just a way to communicate with clients. It's also an excellent approach to communicating with staff. Seventy-nine percent of professionals use messaging apps like WhatsApp to communicate at work. With the group chat tool, you can message up to 256 individuals. WhatsApp Business allows you to send PDFs and other documents. Files can be up to 100 megabytes in size.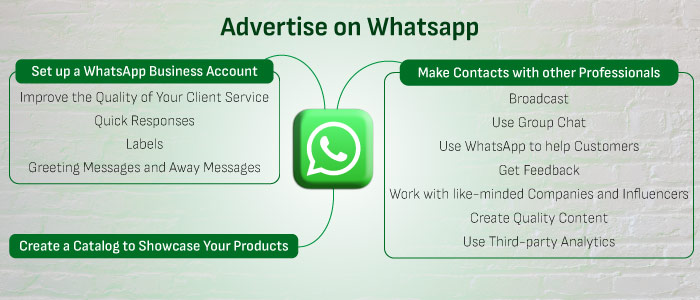 Make Contacts with other Professionals.
Finally, you communicate with individuals in your industry using WhatsApp. Like Zoom or Skype, You can utilize the app's video call feature for professional networking. WhatsApp Business can even be synced with your desktop, allowing you to make business networking calls from your office computer rather than your phone.
Here are five tips to effectively use it to reach your target audience.
1. Broadcast - Make lists for specific subjects or audience segments. After creating your lists, you can send one-way communications designed to increase participation, just like on Twitter. You can send offers, links, or invitations. For example, broadcast lists are ideal if you're planning an event or introducing something of interest to your audience.
Assume you work in leisure and spa. Anniversaries, summer vacations, and bank holidays will captivate your audience. So you can use those moments to send them mass communications.
2. Use Group Chat - Group messages are delivered to all group members and include responses. It is helpful for pre-launch focus groups or market research. It's also possible to grant exclusivity to specific consumer groups. It's also a terrific way to get your consumers talking and expose them to a new service or product. WhatsApp group chat benefits both parties: Your clients can easily engage with each other, and you can reach a global audience.
3. Use WhatsApp to help Customers. - Customer service is a luxury for many small businesses, especially leisure activity businesses. On the other hand, WhatsApp can help you, and your staff responds quickly to customer complaints.
You can utilize text, voice, or video to provide personalized client support over WhatsApp. You can also offer live video help or training on WhatsApp, which would benefit you and your clients. Also, WhatsApp provides a desktop app. You may easily merge the two if you already have customer support software on your computer.
4. Get Feedback - Instead of asking for comments, consider sending questions via WhatsApp incredibly since users open 70% of WhatsApp messages. Marketing research at its finest, and it's free. You can respond to feedback from the app, helping you improve your products or services.
Use more than standard questionnaires. Work on creating engaging and inventive ones that reflect your company while also allowing you to engage with customers. You can reward them with vouchers to develop brand loyalty and as part of a customer retention plan.
5. Work with like-minded Companies and Influencers. - Collaboration with relevant firms or influencers marketing increases your audience and WhatsApp group membership. The objective is to participate in more conversations outside of your sector. People interested in something other than your products or services may promote your brand in other organizations or social media, allowing interested people to find you.
6. Create Quality Content - Yes, on WhatsApp. Quality content is critical for your website and WhatsApp messaging. Keep your WhatsApp messages short and sweet. While length is less of an issue than on Twitter, each word counts. You'll struggle to interest your audience if your tone and vocabulary aren't appealing. Keep it short, fun, and focused on your customers' needs.
7. Use Third-party Analytics - Analytics are crucial in every marketing operation. You must measure and analyze your traffic to optimize your campaigns. Various third-party apps and technologies provide WhatsApp analytics. Using monitoring tools like Google Analytics, you may gather WhatsApp analytics data to better your social media strategy and target the proper consumers.
Conclusion
WhatsApp went from a chat app to a social media platform. Please include it in your marketing plan as soon as possible. It would be best if you had
more than the fact that you could upload files, movies, images, and text about your products and services. In addition, it's a free way to promote your brand and learn more about your customers' needs. The objective is to maintain track of your communications and ensure they are helpful.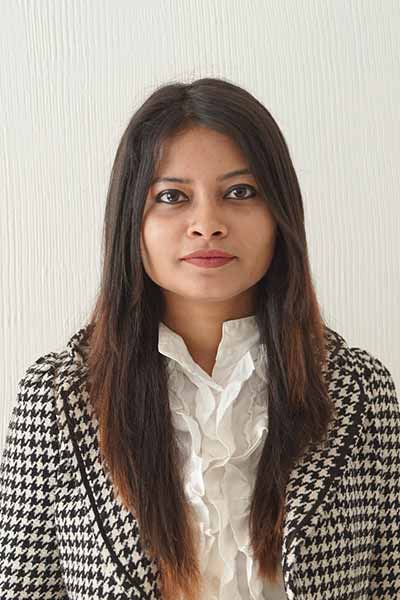 Author: Tiasha
Tiasha is a brand management specialist and writes regularly on it. She is also certified in digital marketing and loves spreading the good advice through her writing.
"
Feel free to use images in our website by simply providing a source link to the page they are taken from.
-- AMITKK
"
Share views on How do I Advertise on Whatsapp?
Please keep your views respectful and not include any anchors, promotional content or obscene words in them. Such comments will be definitely removed and your IP be blocked for future purpose.