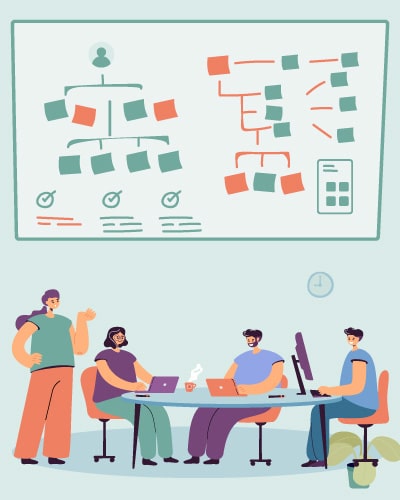 Lead Generation Services
Genuine leads to add to your business directly
Generating original high quality leads is a trick that our team has expertise in and has served lots of brands in growing their business. Going in a strategic way we reach out to customers with the product and the offerings and brings out the details of genuinely interested customers.
We use various kinds of techniques like email marketing, social media campaigns, PPC campaigns, influencer marketing among other to generate leads. In doing this we also build up the brand communications and reach of its marketing channels. Use of high end graphics, content and well thought strategies, our lead generation services deliver top results.
Avail our lead generation services to reach out to new customers and boost your business.
How do we generate leads?
We help generate qualified leads to feed the sales teams of our clients. With inbound marketing programs, we generate qualified leads and nurture sales opportunities. We ensure that our clients scale up their marketing and sales efforts intelligently through various digital marketing efforts.
Content to build thought leadership
Content creation to communicate USP and attract leads
Leverage social media platforms
Run campaigns on social media to widen the funnel
Optimize website for Local SEO
Localised SEO for extra attention to local leads
Email marketing
Reach out to your followers for more sales.
Events & conference
Attend events to build rapport and connect
Videos for youtube and vimeo
Videos to show usage, technicalities and USP
Blogging on own and other websites
Influencer marketing to reach a wider audience.
Pay per click advertising
Run Ad campaignsto connect with customers
Pop up forms
Forms to never miss out a visitor on website
Free demos and trial
Sampling for feedback and database building
Discounts and Coupons
Roll out discounts and offers to boost sales
Tie ups with other brands
Join hands with other businesses for mutual benefit
Inbound marketing to generate leads
Inbound marketing is an effective lead generation technique that aims at exploiting the website visitors for new business opportunities. Driving traffic on website requires seo efforts along with social media lead generation strategies. It helps in nurturing website visitors to turn them into leads followed by customers. Unlike the aggressive approach taken to chase down the cold leads, inbound marketing is more about targeting with tailored approach.
The process involves-
Analysis of inbound traffic, defining the personas
Content strategy and categorization
Creating relevant blogs, videos, ebooks, reviews etc
Targeting with customized campaigns through social media and other platforms
Redirecting to landing page with strong call to action
It is a continuous process, as different persona lies in different stage of buyers' journey and with continued inbound marketing effort their level in the sales funnel slowly move forward and shift to the next turning into marketing-qualified lead. In modern times, marketing automation software and workflows are great aids to such marketing efforts. They help filter out the leads basis their engagement level, which is popularly called lead scoring process. It helps the sales team to focus and channelize their effort on the right people, who are keen to purchase.
Lead generation clients testimonials
"
A big round of applause for AmitKK & team for the enormous success of our last lead generation campaign. Speaking from my own experience, when it comes to lead generation, you can blindly count on their expertise. From strategy to execution, post activity analysis and follow-ups, AmitKK's team does it all with finesse and great competence.
"
Prateek Suri
Sales & Marketing- WelcomHotel, Dwarka
"
For a sales-oriented organization like ours, marketing is nothing but all about cementing the way to generate more leads. Partnering with AmitKK proved to be the best decision we made with respect to lead generation. We have worked with many big to mid-level lead generation company but what Amit's team delivered was the best so far. Top-notch quality and great conversion.
"
Shrom Budhraja
Owner Shake Busters
"
We just concluded our first lead generation campaign with AmitKK. The 3 things that really stood out about them were, their proactiveness in terms of ideation, customized service that cater to individual needs and data driven approach to optimize the campaign. I give them 10 /10.
"
Girish Wadhwa
Owner - Deli Chic
"
The best thing about AmitKK & team is that they are really invested in their clients and projects. They made their best effort to understand us as a business, our needs, and expectations. I feel this is their key to always deliver such high performance. We did a number of lead generation activity with them and all turned out to be great success.
"
Dr. Mir Asif
Owner - Mirascare
"
We recommend AmitKK & team for excellent lead generation services. They have great insights and knowledge to guide you with the best-fit activities for high return on investment. Cost per lead that they offer is best in the industry. We had a wonderful experience while working with their highly professional team.
"
Dr. Piyush Madhav
Owner - FGSI
Frequently Asked Questions
Some questions that confuse people in lead generaration.
How to targeting mobile users to generate leads?

With smartphones capturing almost every household and increasing screen time or time spent on smartphone device, optimizing the mobile platforms for targeting the users becomes imperative today for any business. We get that and therefore, we have a plethora of services exclusively focused on mobile platform.

We have the expertise to run mobile paid search campaign, undertake SMS, or text massage and Whats App marketing. With the power of geo-targeting, personalization, mobile interactive content, and video we ensure we generate leads hitting the right audience with right messaging.

People are addicted to check our phone in almost every hour. Thus, mobile is likely to be more effective as a marketing tool and more user friendly as compared to the desktop. The best part about mobile marketing and lead generation is it is clearly identifiable with tracking id against each activity.
How to use influencers to generate leads?

Influencer marketing is emerging as a great tool as part of the lead generation campaign. It is a recent phenomenon that emerged with the increasing adoption and popularity of social media. The individuals with great followership have the power to motivate and inspire the set of audience that look upto them. We let the businesses leverage that opportunity to connect with millions of relevant target audience and influence their purchase decision organically. We work with a great number of influencers with varied profiles and expertise across genres and category to suit the requirement and budget of the clients.

Experience shows that influencer marketing can be an incredibly powerful strategy for lead generation. Collaboration with influencers can help boost sales directly via affiliate link or discount coupon / code, free sampling, giveaways, and incentives programs. Influencers reviews is a great way to create product awareness and create product manuals. This looks credible to the target audience and turn them into quality leads for the business.
What if the lead does not convert?

No conversion from leads? Was your lead generation campaign futile? Well, not necessary!

A lead might not translate into customer for various reasons. As a business, we must not lose hope and give up on the future possibilities. The leads gathered from a campaign never go in vein. It turns into a database that can be capitalized even later. One can always follow up and revisit the same users after some time. During the product line extension or enhancement, the same database could be retargeted with a fresh campaign who might have had shown interest but not purchased due to different reasons. Therefore, we say, lead management is also an art.

You might want to look into your pricing, pitching, website and other collaterals that might be blocking the conversion.
Lead Quality or Lead Quantity… the big question!

Higher conversion from limited leads or lesser conversion from a large number of leads… what would you prefer? The answer is simple. But for many, lead quantity is still the ultimate answer as the popular belief goes to establish, more the leads, more the conversions. We say, this is a myth. Many a times, campaigns fail to draw a great quantity of leads, but what matters more is if the leads are relevant and qualitative or not. If yes, then there lies enough opportunity to milk it.

Quantity cannot define the actual intent of a user to buy a product or avail a service. On paper, however it sounds fancy to learn that a campaign garnered high volume of contacts. We at AmitKK, therefore, give equal weightage to quality and quantity of leads. We never compromise on the quality, as that is what ensures the best ROI that we deliver to the business.
How much does a lead generation marketing campaign cost?

Cost Per Lead (CPL) is defined by various factors, so there cannot be a specific figure that can be benchmarked for all lead generation campaigns in general. Average Cost per Lead is impacted by many factors like industry, lead generation channel, company size, company revenue and more.

Different service providers may quote different cost for undertaking a lead generation campaign. Once, the briefing is done and the objectives are made clear, at the time of creating the proposal the cost indicatives are defined and shared after due evaluating of all parameters by the lead generation company to the clients.

In a usual case, by the end of the program, if the total lead cost comes lesser than the overall value of a lead, the company can be at win.
Blogs on Lead Generation Services