Latest WhatsApp Global Statistics disclosed that over two billion Smartphone users access WhatsApp for instant messaging service, which is only 50% of email users worldwide. However, business advertisement on WhatsApp has become a digital artifact of communication. WhatsApp defeats email advertising because 65% of emails go to spam, archived, or blocked sections. In comparison, only 29% of users avoid advertisement messages on WhatsApp.
Henceforth, from the numbers' evaluation, it is clear that WhatsApp is now leading as the mainstream platform for business advertisement. But how to do it exactly? Unlike Facebook or Email Advertising, WhatsApp Advertising is a new and unfamiliar subject to newbies in digital marketing.
Thanks to our expert's days of research and experimentation on WhatsApp ads, we brought to most effective strategies for advertising on WhatsApp! According to our real-time experiment related to WhatsApp advertising, this practice will cost you much less than advertising on other platforms like Facebook, Instagram, Tumblr, Pinterest, and Gmail.
Before you go ahead, we must note that WhatsApp Advertising or WhatsApp for Business still has drawbacks. But because it is a new concept for digital marketers, there are still many updates to come in the future.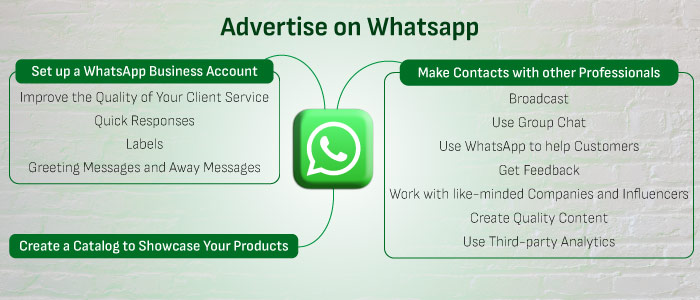 #1: Create Ads on WhatsApp
To begin with, WhatsApp is one of the most private and secure communication platforms. Here, you can connect with your clientele without any possibility of Data Misuse. Imagine if you could do it all together instead of pitching your business's mainstream products and services to each clientele in your inbox separately. This way, you can also avoid one clientele having information about other clientele. Henceforth, you will be working to make a deal with each clientele separately but using the same tactic.
Following is a brief manual on How to create ads on WhatsApp for your reference:
STEP 1: Link your WhatsApp for Business Profile to your Facebook Business Page
It is crucial to note that the WhatsApp Advertisement system is partly dependent on Facebook. Presuming that you already have a Facebook page for your business up and running, follow the instructions given below to link two and two together:
Login to your Facebook Profile.
Enter the "Facebook Business Manager" option.
Open the page that you want to link with WhatsApp business.
An automatic dialogue box will pop on the screen saying, "Connect your Facebook Page to WhatsApp."
Enter your Mobile Number (it must be mutual for both platforms).
Tap on the "Send Code" button at the bottom.
Next, enter the code.
You will see a "tick" on the screen as a sign of a successful connection.
STEP 2: Create an Ad Campaign on Facebook
By creating an Ad Campaign on Facebook, you can boost the same campaign among your WhatsApp audience. The process is much easier and only takes a few minutes if you are creative. Here's how to do it:
First, go to the "Facebook Ad Manager" section.
You will see a green button with "create" on it. Click on it.
Then, change the "Create New Campaign" tab in the pop-up box.
You can set up objectives for the campaign. Click on "Messages" under the Consideration section for WhatsApp advertisements.
Then, set up a daily budget for your campaign. There are various options: Bid Cap, Lowest Cost, and Cost Cap.
If you are a beginner, the "lowest cost" option is best.
After that, select "WhatsApp" in the traffic section.
In the next step, set up the location and age of your targeted audience.
Optimize text per person option at last.
For a call to action, select "WhatsApp Message."
This step will ensure that each interested customer can connect directly with you or your executives.
STEP 3: Create an Attractive Template for WhatsApp Feed
For the most part, your WhatsApp Ad Campaign will mainly reach out to users on your contact list. Or those who try to connect with you on WhatsApp for business via Facebook. Henceforth, the final digital premises for your customer will be your WhatsApp inbox. Thus, you will have to set up automated messages and other factors beforehand.
Here's a list of things you can set up:
Greetings Message: For example, We are here for you!
FAQs or Frequently Asked Questions: Set up the most common questions and answers so that an automated message goes through if any customer asks them.
After setup, click on the "Save and Finish" option on the bottom right of the dialogue box.
STEP 4: Check the Effectiveness of Your WhatsApp Advertisement
Thanks to the developers of WhatsApp for Business, you can check the effectiveness of your campaign by the hour. As long as your WhatsApp runs, you can check the results using WhatsApp Business Analytics. Here's how:
Go to "Business Tools" from the main menu.
Then, tap on the "Statistics" option on the top.
Here, you can check the following:
Messages sent
Delivered
Read
Received.
Although, it is a little. But, in the future, WhatsApp Advertisements will surely upgrade to provide more insights. You can now access Facebook campaigns to check results if needed.
#2: Create WhatsApp Status for Business Broadcasting
The WhatsApp status feature effectively broadcasts business accomplishments, upcoming events, and more. For example, you can shout out discount-loaded deals. It will give you an edge over competitors. And last but not least, the audience will start taking an interest in your product or service. Curiosity is a part of human behavior. You can use it to your advantage by crafting attractive Whatsapp statuses.
#3: Don't Overestimate the Power of Content
WhatsApp Ad campaign is one of many measures to advertise content. If you cannot afford to boost Facebook advertising campaigns linked with WhatsApp, you can directly create powerful and short messages to attract an audience. The excellent part about sending broadcasting messages on WhatsApp is that there's no word limit. You can communicate with potential customers without any barriers.
Above all, you only need to ensure that your ad-based message is so good that it is worth sharing. The power of the WhatsApp forward chain is not unknown to the world of marketers. Why not use it to your benefit?
#4: Set up Automated Messages
No customer wants a late reply, and that's the primary reason customer services are up and running successfully. Presuming that you are away from the keyboard or stuck in a meeting, it is crucial to satisfy your customer in the waiting line in your inbox. Thankfully, WhatsApp Advertising allows you to set up FAQs and automated answers.
Scroll above for a complete guide on WhatsApp Ad Campaigns.
#5: Communicate Directly with Interested Customers
Once you have released your product or service advertised on WhatsApp, your job is still ongoing. Indeed, it starts here. Customers will be interested in your product, so that they will connect via WhatsApp in the hope of a quick response. You can benefit from this opportunity by inviting customers on a call and talking about the product. Of course, it will also be easy-on-pocket for you because WhatsApp calling is free.
Once your number of loyal customers on WhatsApp expands, you can interest them in joining WhatsApp groups where they can get first-hand opportunities to avail discounts, giveaways, new and better products, etc.
Bottom Line
WhatsApp can serve you best if utilized correctly. Even though Facebook Advertisements are much more effective, they are not free. Henceforth, you have second thoughts as a newbie business person with limited working capital. But, with WhatsApp, you don't have to worry about budget sheets, post boosting, etc. Thus, it is a great platform to begin collecting customers for your startup.
Thank you for taking this journey with us!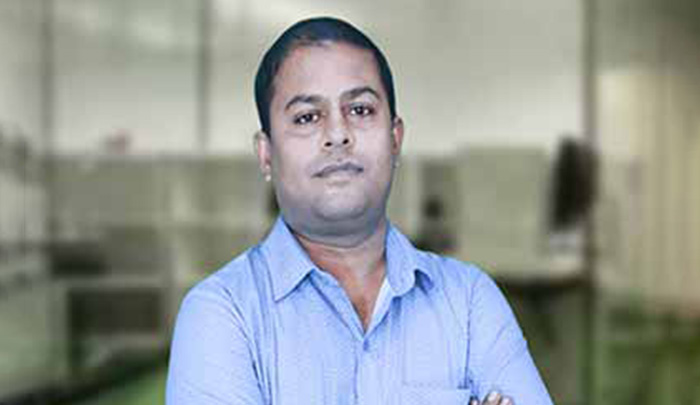 Author: Nripendra
Nripendra is an educationalist with a penchant for business. He loves following and writing on how the digital world has been changing over the years. He guides us our SEO team too.
"
Feel free to use images in our website by simply providing a source link to the page they are taken from.
-- AMITKK
"
Share views on How can WhatsApp be used for Marketing
Please keep your views respectful and not include any anchors, promotional content or obscene words in them. Such comments will be definitely removed and your IP be blocked for future purpose.