Since 2016, the concept of social media platforms has changed entirely, and people around the globe are trying to catch up with the trends. Whenever platforms like Instagram, Facebook, and Tik Tok develop a new trend, people go crazy and get along with them no matter what.
It is no secret; at one point, we all became a part of a trend and posted it on our social media platforms. And the best part about posting it out was that you get to use a particular hashtag and associate yourself with it.
Imagine screaming #icebucketchallenge after pouring down an entire bucket of water filled with ice; the adrenaline rush after being a part of a trend on the internet was one of the best feelings of those early days. But how did these trends reach us? It has everything to do with how we use hashtags and how to stay relevant.
What are Hashtags?
Hashtags are used for trending challenges, which is also an essential part of digital marketing. When we talk about hashtags nowadays, it has become a medium to increase engagement on social media platforms and grow the cause you are working on.
The cause does not have to be particularly related to social work; you can use it to grow certain enterprises, businesses, and services. As we said, hashtags are crucial aspects of social media marketing, and businesses need to use them likewise.
How to Use Hashtags Properly
AMITKK is one of the most renowned digital marketing company that provide the best social media marketing services with the utmost results for enterprises. With our professional and highly skilled team, your company's social media handles will stay updated with the latest trends and responsive hashtags that will engage your audience and increase insights.
But how do you properly use hashtags on social media platforms to stay relevant and attract an audience? We have a detailed answer to that! The list below will help to increase insights and understand the functioning of the hashtag.
Categorize Content
The first step in properly using a hashtag is understanding your company's content. When we start working on your company's project, we understand the category of the company and do thorough research about what hashtag can be used with it. Analyzing the niche of content companies post on social media platforms is essential.
Capitalize Every Word's Initial Letter
Some experts have used this technique in digital marketing for quite a long. We will try to launch a hashtag in your company's name and develop unique hashtags that specifically apply to it. Sometimes it is fun to have a hashtag with all the first letters of all the words capitalized.
Create Unique Tags for Your Business
Our expert team believes in always creating a unique hashtag and branding the company according to that. Most social media marketing is based on publicizing the brand with its tag and revolving the entire campaign around it.
Competitors Analysis and Influencer Marketing
When working on social media, keeping an eye on your competitor's activities is important and easy. We ensure to keep a tab on your industry competition and work on their statistics to benefit your company.
Look For Connected Hashtags
It may seem like a non-essential point, but looking for related hashtags can be helpful. Using somehow connected hashtags targets a wider audience with similar likings, and we try to connect our hashtags with similar ones.
Examine Which Hashtags Were Effective In Previous Posts
We believe in analyzing the previous work. When we post a graphic with a new hashtag, we ensure that we keep a tab on its functioning and its response from the audience. After analyzing the effectiveness, we work on upcoming posts and hashtags.
Make Them Interesting By Keeping Them Brief
The audience has a memory lapse for a very short period. We ensure that the hashtags we are finalizing to use for your brand are short, crisp, and easy to remember. We want the hashtags on the tongue of our audience.
Thrive On Current Trends
Social media platforms can be tricky to keep up with. But one feature of them is always going to benefit your brand. Along with maintaining the company's trends, we will also keep up with trending options. The mixed strategy is better to keep the page and company relevant to all types of generations.
Establish Hashtags For Advertising
We have repeatedly established your hashtags for advertising and marketing purposes. We will guarantee the establishment of brand-new and relevant hashtags for your company used for the advertising.
Choose Hashtags That Match Your Company
Your company must choose hashtags that match the company's field. If your company deals in virtual assistant services but uses hashtags related to the production house, the entire purpose of using a hashtag will be lost. We conduct our research to understand your brand and work on matching the hashtags.
Recognize Which Hashtags Are Now Popular
With our amazing team, you will always be updated about the top trending hashtags on different social media platforms and work according to the information.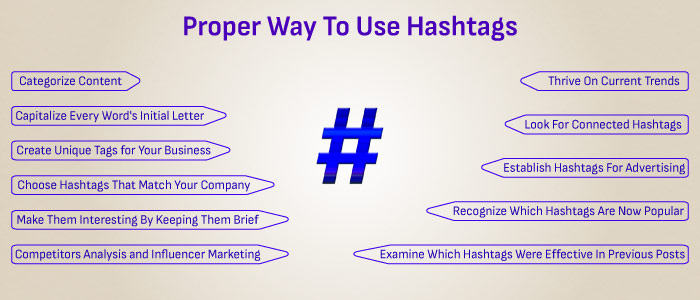 Why are Hashtags still relevant?
Hashtags remain significant in social media; their importance varies across different platforms. Gone are the days of spamming a dozen hashtags under a single post on Instagram, hoping to attract more audiences. Such an approach can do more harm than good today, as it can cause your content to be buried under the weight of other similar-looking posts.
Strategic usage of hashtags can offer several benefits to your social media accounts. It's a cost-free method of spreading the word of your company's existence and products and services and keeping tabs on how others perceive you online. Hashtags can help you stand out from your competitors, build a community, increase brand awareness, encourage engagement, and showcase your support for social causes.
No matter how much time has passed, hashtags are valuable to any social media marketing strategy. However, to maximize their potential, it's essential to understand how to use them effectively across different platforms.
Types of Hashtags
To effectively use hashtags in your social media strategy, it's essential to understand the different types of hashtags available. Then, using relevant and popular hashtags can help to increase your social media reach, engagement, and overall success.
Here are eight types of hashtags to consider:
Daily hashtags provide an opportunity to celebrate and share something unique every day of the week on social media. From #MondayMotivation to #ThrowbackThursday, these hashtags serve as a way to join a broader conversation and connect with people who share similar interests.
Branded hashtags are used by businesses to raise their profile on social media, get access to new audiences, and popularize their products.
Marketing hashtags - Companies use dedicated hashtags to spread awareness about their brand, encourage customer engagement, and measure the effectiveness of their marketing actions.
Niche hashtags can help you locate and participate in discussions on topics of interest to you, such as #cycling or #foodporn.
Location hashtags describe a location you are or were in and are particularly important for the tourist industry and outdoor photographers.
Event hashtags are used for sports, conferences, events, & more to spread the word before, during, and after the event and measure its social media impact.
Community hashtags are created to serve specific communities around products, influencers, brands, or other more specific themes.
Hashtags for contests spread the word, get more people involved, and make it easy to find everyone participating in a social media contest.
Consider using these different hashtags in your social media strategy to improve engagement, reach, and success.
Conclusion
AMITKK is a leading social media marketing agency that is always ready to help you boost your business with the profound usage of social media marketing and hashtags. Our dedicated team with years of experience will increase user engagement, bring traffic to your website, and help you generate great and profitable revenues.
Your business project will be our priority, and we will ensure top-notch results on all your social media platforms with the help of our astounding digital marketing strategies. It is high time to switch to AMITKK and leave behind all the unsatisfactory results. Once you choose us for all the digital marketing services, we will ensure the utmost customer satisfaction with how to use hashtags guide.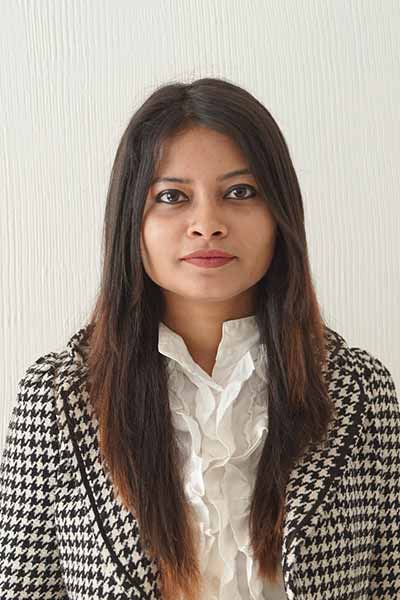 Author: Tiasha
Tiasha is a brand management specialist and writes regularly on it. She is also certified in digital marketing and loves spreading the good advice through her writing.
"
Feel free to use images in our website by simply providing a source link to the page they are taken from.
-- AMITKK
"
Share views on How to Use Hashtags
Please keep your views respectful and not include any anchors, promotional content or obscene words in them. Such comments will be definitely removed and your IP be blocked for future purpose.