This article will help you rank on page 1 of Google. There is only 1 way called SEO. If you don't know about SEO, continue reading this article. SEO is the only way by which you can rank your website easily on Google. We at AMITKK will help you rank on Google. Let's start-
What is SEO?
SEO means increasing your website's rank on Google for particular searches. Remember that the more people visit your website, the higher it ranks.
In a word, it is a technique to make your website more visible when someone searches for products or information on Google, Bing, Yahoo, or any other search engine. The higher your website or pages are ranked, the more traffic they will receive.
How does it work?
Search engines use bots like Google to crawl web pages, visit various websites, obtain information about them, and save it in a file. Think of the record as an extensive library where a librarian can bring up a book (or website page) to help you locate what you're looking for.
Then, algorithms look at pages in the index while taking into account a variety of ranking parameters to determine if the requested pages should appear in the list of items for a specific question. Said SEO works by demonstrating to the search engines that your article or material is the best result currently available for the targeted topic. It is so because all web search engines strive to present their users with the best and most relevant results.
The key is that your approach will depend on the search engine you are aiming for. So if you find it complicated, don't worry; AMITKK will make it simple.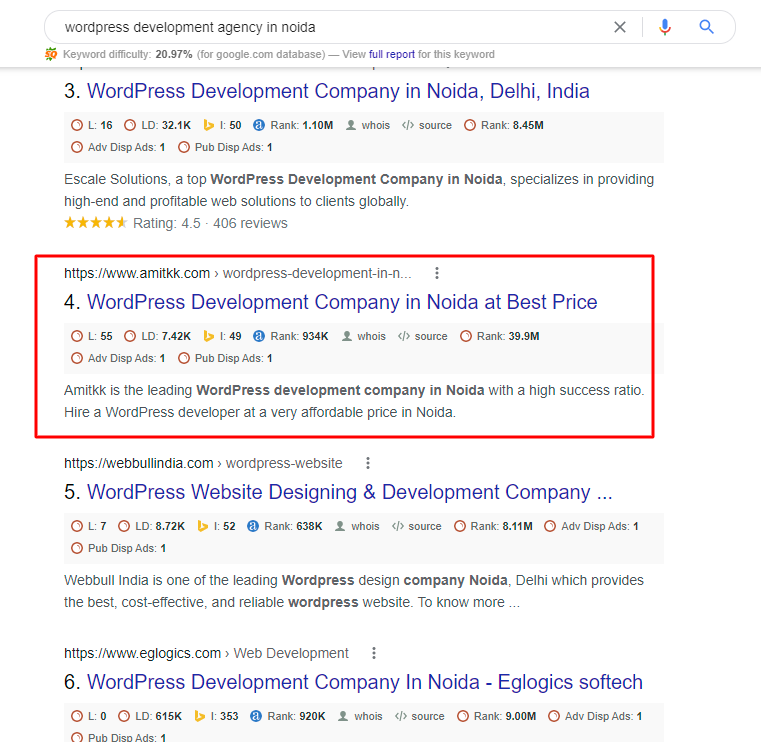 Reasons to Focus on SEO
More traffic
You'll see an increase in traffic from your target market as your website climbs the search engine results pages (SERPs). This traffic has the potential to result in leads and sales, which are crucial for any organization.
An Elevated Sense of Brand
If your brand is more well-known, you have a better chance of attracting new clients and keeping the ones you already have. Reduced competition and higher success odds are two additional benefits of enhanced visibility.
Greater ROI
Most of the time, better SEO leads to a better ROI (return on investment). It implies that your investment in SEO will pay off more quickly than you anticipated, freeing up more time for you to concentrate on other aspects of your business.
Follow These Steps to Rank 1 on Google
Apply Keywords to Your Niche
One of the easiest ways to rank on Google is by using keywords correctly. At this point, one would examine rival businesses and comprehend all the terms relevant to their enterprise.
For instance, if you sell shoes, your keyword might be "best shoes to buy," etc. The secret to ranking higher on Google is knowing your keywords and implementing them consistently across your website.
Write Consistent Targeted Content
Another excellent strategy for ranking highly on Google is to write relevant, consistent content. Your traffic correlates directly with the content volume directing users to your platform; however if you're publishing papers, journals, perceptions, and all in between.
Additionally, a website optimized for SEO should go along with this. The most excellent SEO company and using focused content are ideal approaches to improving your Google ranking.
Become Market-Aware
It is a crucial stage that many marketing firms or start-up companies overlook. You can create highly targeted commercials and excellent SEO and establish yourself as the most outstanding marketing agency in Miami, LA, NYC, or everywhere in between by thoroughly understanding your target market.
Start title tags with your target keyword.
Because the article's title describes its content, Google gives more weight to keyword searches. In general, search engines provide the term more weight the closer it is to the start of the title tag. You can observe this by conducting a Google search for the competitive keyword.

Place the keywords in the first 100 words.
Try to place your keywords in the first 100 words. There are people for whom these come effortlessly, but many bloggers would instead write a lengthy introduction before even thinking about a keyword.
The apparent reasons why Google wouldn't consider this particularly relevant in the search results make it unwise to do this.
Use Outbound Links
The primary method for drawing more traffic to your website is outbound links. Unfortunately, many people make the error of omitting links to other websites or articles.
Put the URL's target keyword there
Longer content fundamentally assists with adding more keywords and naturally places more emphasis on information. Longer text boosts a post's credibility, making it more likely that Google will find it relevant than a post with short, snappy content.
Small paragraphs increase your article's or website's chances of ranking higher than others because long tail keywords are now synonymous with search patterns. Your website should consider visitors because visitors are the foundation of on-page SEO.
Add the best-chosen keywords to your website
The success of articles and website traffic depends on the keywords' arrangement. However, since search engines are continuously improving, it is not required to do keyword stuffing and hope for the best results in the search results.
Advantages of Internal Linking
It is crucial to decrease a website's growth rate and optimize it because it connects many web pages.
Users and visitors spend more time on websites when a link is distributed, and site traffic rises. It improves the navigation experience also.
Image usage
Make sure to use images related to your article on your website. Additionally, your image's Alt Text ought to contain your target term. It will help your article's ranking and give the search engines a clearer idea.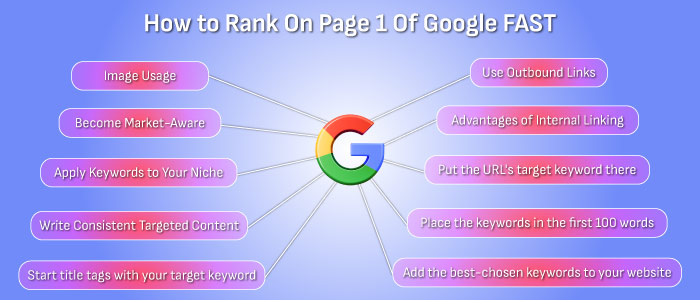 Conclusion
Ranking on Google is detailed. We at AMITKK - The best SEO Company, will help you with this. We follow the steps mentioned above, which are very easy and effective in ranking your website.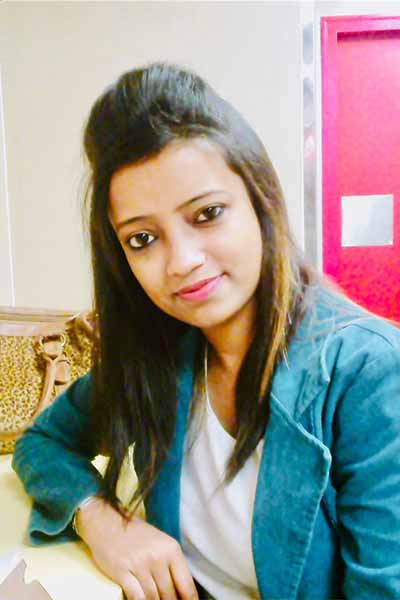 Author: Tanisha
Tanisha is a social media expert and loves writing on SEO and Social media. Her take on networking platforms and search engine are very refreshing and well-researched.
"
Feel free to use images in our website by simply providing a source link to the page they are taken from.
-- AMITKK
"
Share views on How to Rank On Page 1 Of Google FAST
Please keep your views respectful and not include any anchors, promotional content or obscene words in them. Such comments will be definitely removed and your IP be blocked for future purpose.