WordPress is widely known for creating sophisticated websites. Approximately 455 million websites are powered by WordPress.com
But one of the best things that WordPress can do is Directory Hosting which many people don't know.
And with a great WordPress directory theme you can change the way your site appears.
With WordPress, you can easily set up an online listing portal with categorized items of any type – local shops, real estate, hotels, cafes, businesses, websites etc.
There are numerous free and paid WordPress themes that can help you create an appealing and profitable online directory.
Ten Classic WordPress Directory Theme to choose
Here is a list of ten great WordPress directory themes according to different business needs.
1. ListingPro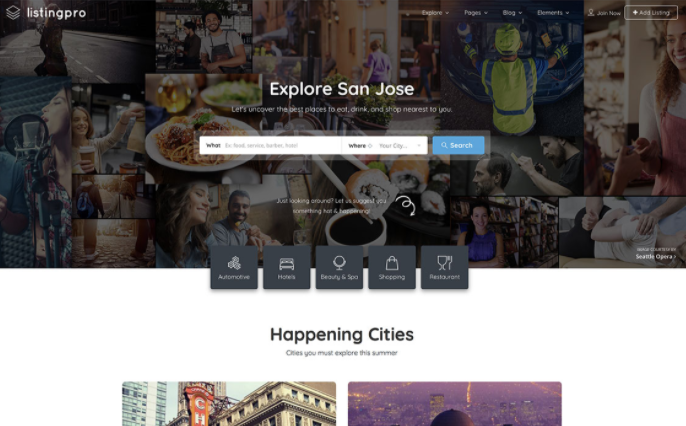 The number 1 best seller end-to-end directory and listing solution is ListingPro. It has successfully positioned itself as an industry leader and proved to be an all-in-one solution.
Since it is a multipurpose directory theme, it is trusted by more than 18,000 freelancers, startups, agencies, and small online and medium-sized business directories (ListingPro).
You can build a directory website like Foursquare or Yelp with this theme cum plugin meaning that you don't need to pay for additional plugins. The dashboard comes with easy customization options that let you change the fonts, colors, and add intuitive images.
You can download this theme for $69, and in this price, you'll also receive free six month technical support, set up assistant, lifetime free updates, demo import, and documentation.
If you're still confused, read 5-star reviews of ListingPro and know why people like it so much.
2. Business Finder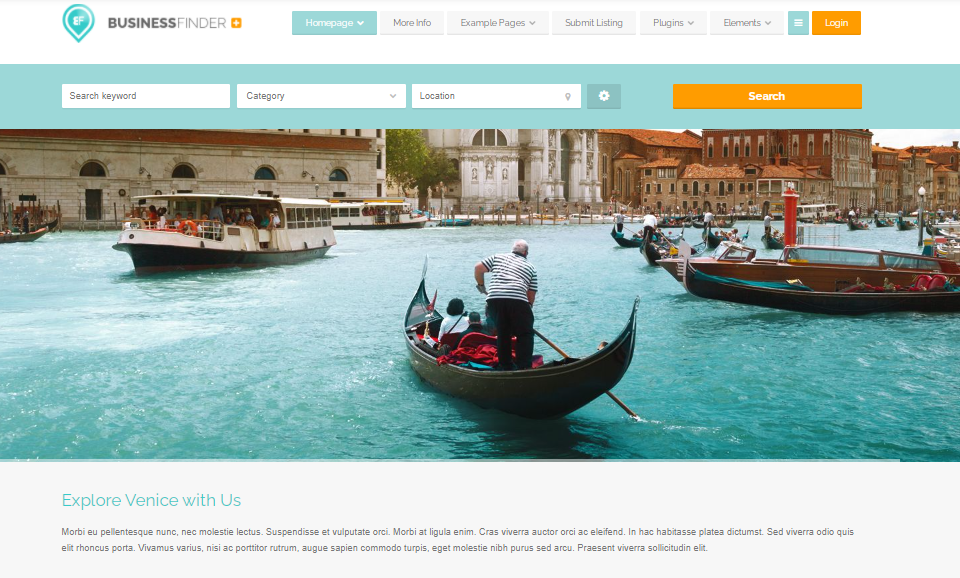 Another successful multipurpose feature-packed directory theme securing the top second position is Business Finder. It is an absolutely professional looking theme available in twenty-seven languages.
It is highly compatible with multiple directory themes which means that you can switch between themes without losing important data. The theme is SEO ready, incredibly responsive, and have a lot of customization options.
For instance, you can add social profile links as well as create an image gallery in each listing to display the offerings in a better way.
It comes with a built-in secure PayPal payment system that allows you to bill listing businesses and accept recurring payments. This theme is also available to download at a price of $69.
3. Wilcity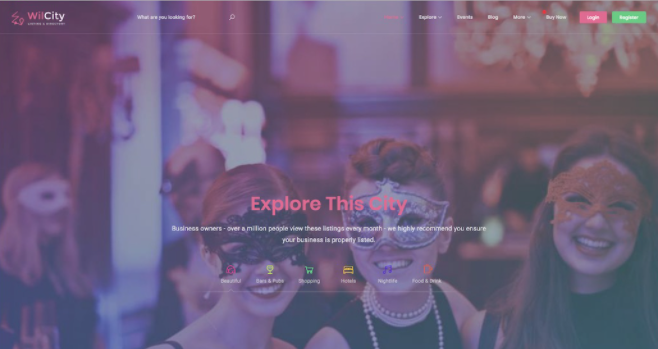 Wilcity is a colorful WordPress theme with an expressive collection of templates appropriate for listing tourism and leisure activities. Its appealing design works well for managing client booking and reservations.
Plus, you can monetize your directory and earn from promoting restaurants and shops near to the destination spots. This also makes you control listings that you've created.
You have the option to add quality details about your website like reviews, requests, optimized images, and testimonials which increases authenticity. It's integrated with updated SEO and social media tools that let you reach out to profitable prospects.
It is fully compatible with WPBakery Page Builder plugin that let you edit all the themes as per your taste. With the app builder, you can create a mobile app for your directory and send it to Google apps store and Apple.
The total price is $69 and includes the item and buyer free.
4. DiningEngine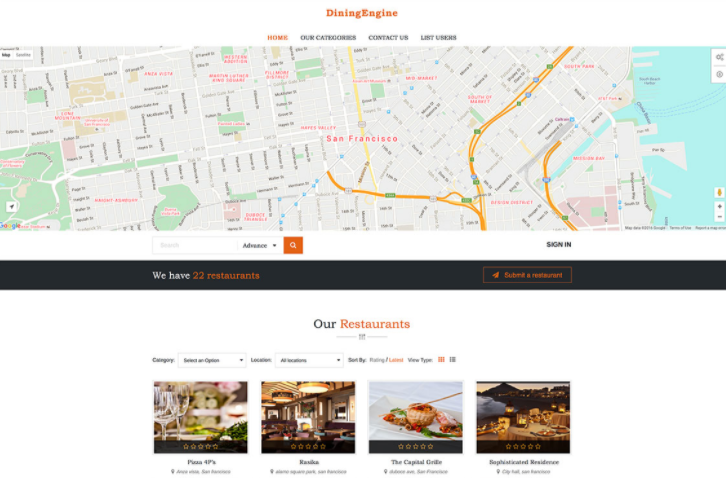 Setting up a restaurant directory isn't as easy as it seems. However, things are quite easy now with DiningEngine, a theme popular in customizable café, bistro, and restaurant business listing in the town.
The amazing options allow you to display mouthwatering cuisines and every unique service the listed restaurant offers.
It lets you create a responsive website that can be accessed through desktop and smartphone. You can also ask your clients to pay a fee if they want to be promoted by your site and appear in the featured listing.
With this theme, you'll also get the Google Maps feature that let your customers point out and locate different places on your site.
Additionally, the sleek design combined with excellent user experience is available now at $89, which is pretty expensive but offer guaranteed results.
5. Vantage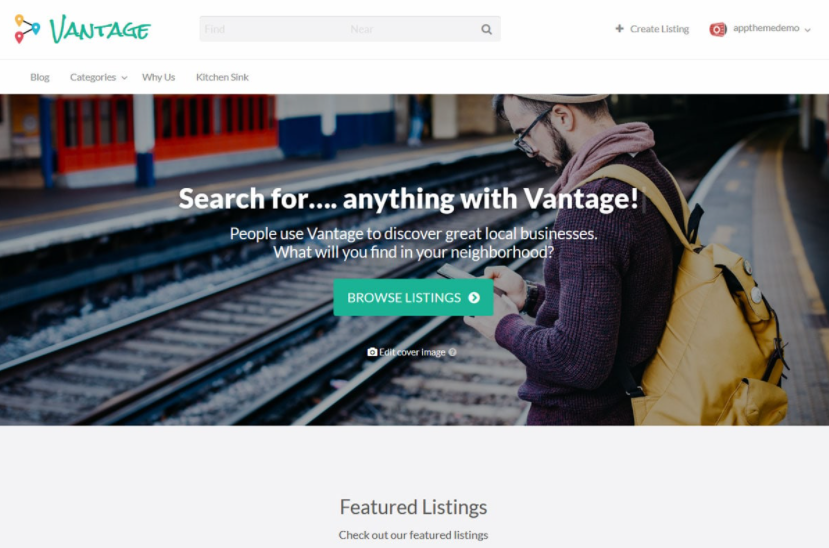 Tired of trying low-quality directory themes that are so complex and only give you headaches and hours of network troubleshooting?
Vantage is an easy-to-install and easy-to-use business directory for all WordPress sites. It is a pain-free product that can be downloaded within minutes, and you are set to create a mind-blowing directory.
Users can access your site perfectly on smartphone and tablets, which means that Vantage is highly responsive. It comes with payment gateways and is also integrated with PayPal. You also have a choice to increase the number of payment gateways as per your needs.
Vantage accepts business as well as individual event listing (i.e. listing events that are going to happen on specific dates such as concerts, exhibitions, and festivals). It features great monetization tools and offers you numerous ways to generate income.
Moreover, the pinpoint location accuracy search is backed by careful keyword selections. The geo-coded listing brings the closest results. The listings with this theme are not tied into cities. This implies that your directory will cover bigger geo-locations such as entire states and countries.
6. Wyzi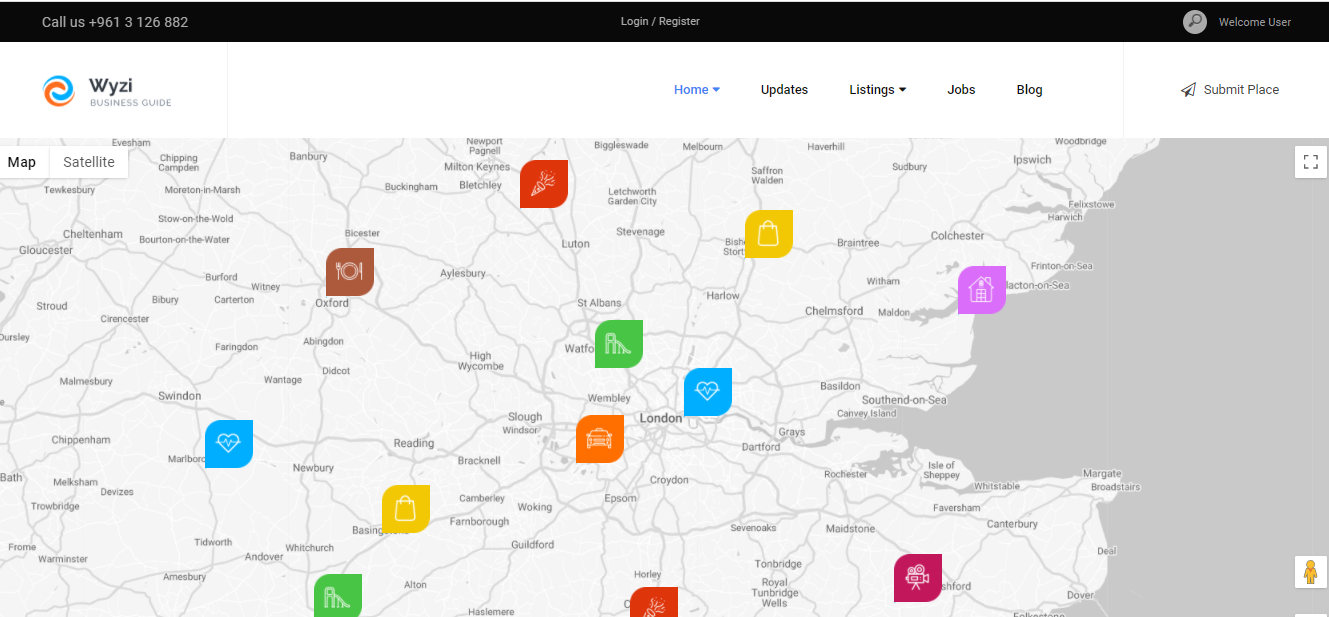 A very powerful and advanced multipurpose theme is Wyzi were you can create unlimited listings of clients and owners (service and business owners). A business owner can be any manual worker, company or a doctor. It also includes platforms from where people buy products or book a service.
Additionally, you can also launch real estate listing portal. You can utilize this theme is multiple ways as per your needs. Plus, WooCommerce, with its amazing add-ons, makes the collection of payment easier than ever.
This makes Wyzi the best choice for individuals looking to expand as their online website directory matures.
Every client has the choice to create their own posts and statuses, including images and videos to be displayed on your website's main wall.
The rates, opening, and service availability times can also be specified by every business and also essay writing service provider. This amazing directory theme is available for $59 only.
7. Mylisting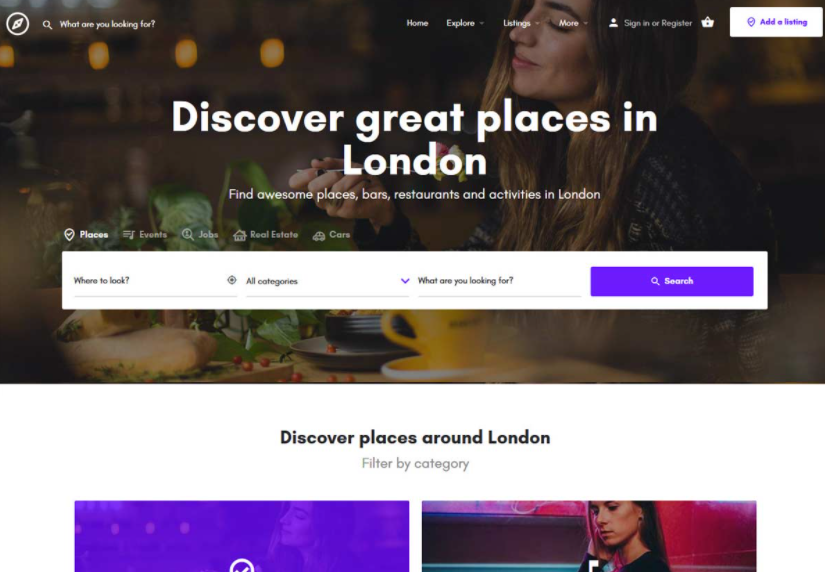 Mylisting is listing and directory WordPress theme specially designed to fulfil the needs of those focusing on targeted locations. This theme deal with events, coupons, cars, hotels, and real estate providers mostly.
The features that make it the best choice to build a directory is its ability to create unlimited local listing types. Every Mylisting demo is built with their own unique design and offers a completely modern look. But it doesn't mean that you can't edit the templates. You can redesign them to match your needs.
This theme is created around the robust Elementor page builder tool that let website owners customize the design using its in-built drag and drop page.
Integration with WooCommerce and other payment plugins makes it user-friendly and hassle-free.
Besides this, if you are very keen about your website appearance, don't hesitate to choose this good looking theme.
You can also add reviews, create membership plans, and receive payment from users for promoted listings. You can install the WP Job Manager Plugin for paid listing that allows you to create a jib directory and employment site.
8. Javo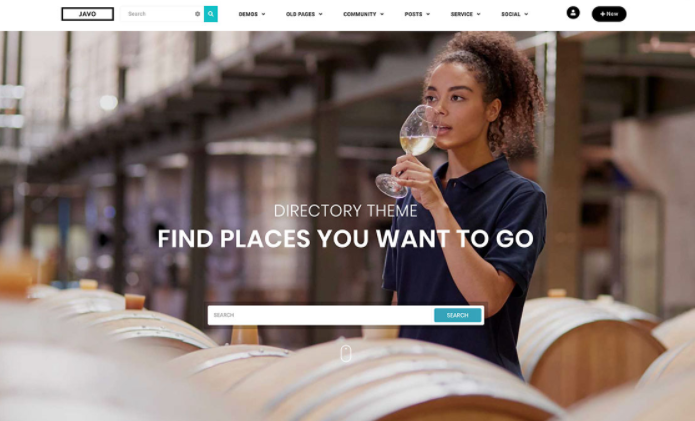 If you are looking for a modern-day directory WordPress theme that can help you build engaging listing or online directory website, then download Javo.
This theme is popular for its eye-catching and appealing home layout and designed on the Bootstrap framework. The full-width image slider works great for displaying the best-featured listing from the directory. It is a key factor that encourages visitors to discover the rest of the directory site.
The live builder powered by Visual Composer plugin allows you to customize and control your site in real-time. It gives access to an intuitive drag and drops page builder to personalize your site.
With this option, you can create custom layouts and insert unlimited page elements, including images and animation through a visual editor.
The theme is highly responsive, and SEO ready means it works well with all devices such as mobile phones, tablets, and PC.
You can enjoy all the great features at just $49.
9. Directory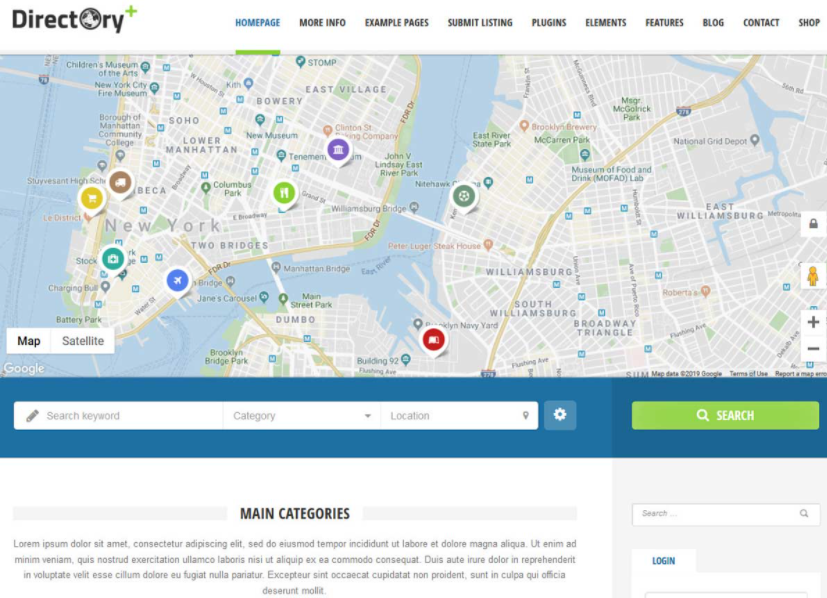 It is by far the best-selling WordPress theme named as Directory. It is totally a unique and versatile concept by Ait Themes.
It was the first theme of its kind and has gone through numerous upgradations and changes over the last decade. You can set up a huge online directory listing for companies, businesses, websites, and shops and so on. It aims to be flexible but has all the customization features.
As you can see from the image, the homepage features the Google Map, which can be easily configured by the users.
Most highlighting features of this directory theme includes PayPal integration, geo-location, user registration, layout options, advertising spaces, premium packages, responsive design, and demo XML content, and useful shortcodes.
10. Point Finder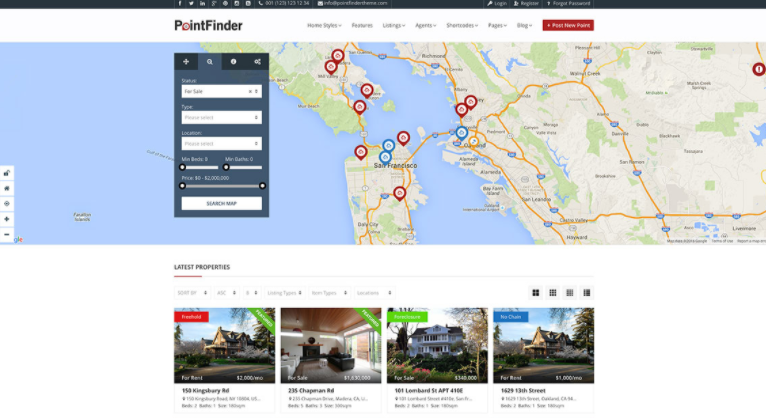 Point Finder is a highly functional WordPress theme that empowers webmasters with its four interactive layout modes. With this directory theme, you don't need a past coding experience to make a polished looking listing and online directory website.
You can build a custom directory website with the premium Visual Composer plugin. This allows to personalize your website look and feel so that it matches with your precise audience. Despite huge customizations, you can enjoy incredibly advanced tools such as Pay Per Post systems, Membership, and search item.
The theme is interlinked with the PayPal payment system as well as WooCommerce and available for $69.
Key takeaway
To sum up, above mentioned at the top WordPress director themes that can help website owners create a compelling online directory or business listing website. If you still need more information on choosing the right WordPress directory theme, then let us know in the comment section below.
Melissa Calvert is currently works as the Sr. Business Strategist at Crowd Writer, a cheap dissertation services provider in the UK. She has a passion for helping the new startups grow and expand with her knowledgeable opinions and expert tips. In her free time, she likes to cook new healthy meals.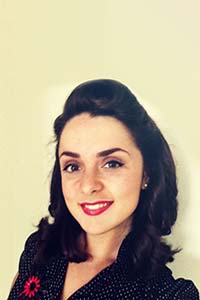 Author: Melissa
Melissa Calvert is currently working as a content writer at Crowdwriter, and she is one the renowned content strategists for digital marketing in the USA. Melissa has done several courses in the same field and aspires to continue growing her writing skills.
"
Feel free to use images in our website by simply providing a source link to the page they are taken from.
-- AMITKK
"
Share views on Top WordPress Directory Themes to Look For
Please keep your views respectful and not include any anchors, promotional content or obscene words in them. Such comments will be definitely removed and your IP be blocked for future purpose.