SEO is fundamental to digital marketing. Many business owners know the benefits of SEO for their website; it is a process of optimizing a website to improve its rank in search engine result pages to get better visibility. Greater visibility means more likely to attract prospective and existing customers to your business. But many of them need to learn that SEO can benefit a business without a website.
There are two types of SEO (On-Page SEO and Off-Page SEO). Both can be beneficial for a business if appropriately utilized. For that, one should have proper knowledge about both types of SEO, how they are different, and how to optimize them. This blog will inform you about the other benefits of SEO that will blow your mind. Every business needs to invest in SEO, whether a small business or an enterprise. Keep reading to learn all about SEO!
What is On-Page SEO?
When someone searches for something on search engines like Google or Bing, it starts searching for relevant sites and collects all information. Next, it analyzes and ranks the sites based on several ranking factors. Then, based on the rank, the websites appear on the search engine result page. It is called on-page SEO.
What is Offline SEO?
Offline SEO is the process of optimizing a website but not directly on the website, outside of a website, to improve website traffic and its search engine rank. Work is conducted outside a website to drive traffic back to the website.
Let's say you post a blog on your website to attract traffic to your site is called off-page SEO. But if you post a blog on another popular website and that blog is linked to your website is known as offline SEO.
Benefits of Search Engine Optimization for Your Business
The importance of SEO in digital marketing is increasing in the modern age. It is a consistent process involving many strategies. There are many reasons businesses invest in SEO, like boosting brand awareness, reaching out to potential customers, improving business revenue, etc.
Do you know the importance of SEO but are still determining if you should choose it for your business?
In this article, we have listed down some main benefits of SEO for businesses. You need to leverage them to avoid losing money every day. It will help you to take a call on this!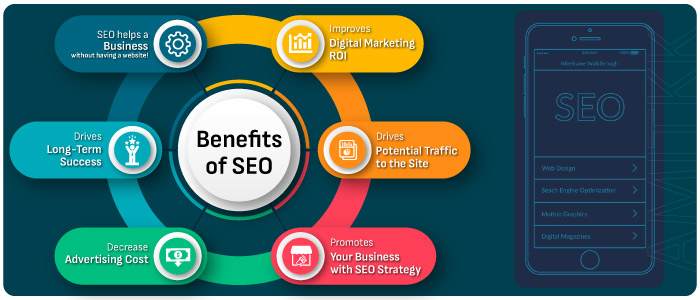 Improves Digital Marketing ROI
When you set a cost for digital marketing and invest in it, you want the maximum return. A strong SEO strategy can help you to get higher revenue. It always gives higher payment than the traditional one. Giving better ROI is one of many businesses' most significant advantages of SEO.
Drives Potential Traffic to the Site
Marketers always say SEO is a successful strategy for businesses. Unlike traditional advertising, consumers reach out to you when they need you. It means you are getting the full attention of the consumers. Thus, SEO always drives potential traffic to the site and enhances the chance of conversion than another way of marketing. Your business is reaching the audience at prime time. Here is the importance of SEO lies.
Promotes Your Business with SEO Strategy
The most exciting benefit of SEO for business is that your business can reach consumers daily. It allows you to contact them when they need you. In most traditional advertising, a consumer can only find you at midnight or at a place where your presence is available. But in SEO, a consumer can quickly know about your business through an online search.
Decrease Advertising Cost
Among all SEO benefits, this is the most valuable benefit. SEO decreases not only digital marketing costs but also traditional advertising costs. A business can reach many potential customers through a strong SEO strategy.
It doesn't require an official website. A social media page and good content can decrease your advertising spending with the same result. A business can attract millions of eyes at a lower cost and build brand awareness within a year with a strong SEO strategy. It allows you to promote your business in a non-promotional way.

Drives long-term success
Unlike other traditional marketing options, SEO is a long-term process that requires a going strategy. It takes time to show you the result. One should not expect an immediate effect after investing in SEO. A business should set a budget for SEO monthly to build a long-term relationship with SEO which will give better brand awareness and lead generation and maximize business ROI.
There is infinite importance in SEO, and we hope you can now decide from the five main benefits why you should opt for SEO. Whatever your marketing budget, if you don't want to go for push sales, you must invest in SEO, as your customers will come to you at the right time. SEO will help your business to grow at the optimum level and achieve your target.
SEO helps a business without having a website!
People know the importance of SEO, but they might have the impression that it only works for websites. They need to find out that it can help a business without a website. A company registered on Google My Business or a similar profile will automatically reach many people without an official business website. They make it easier. One can add all essential information like phone number, address, map, images, description, etc., on a Google business account. When people search for the contact numbers of businesses on Google, it shows up with all the required information for the nearest consumers. Customer reviews can also be seen on this. Using relevant keywords, you can reach out to potential consumers looking for the service.
Signs that show your SEO strategy Fails?
If you're worried about the success of your SEO approach, keep an eye out for these red flags:
Your website is not indexed
If your website needs to be indexed in a search engine, you may need to look closely at your content and settings. Issues like misconfigured robots.txt files or woefully inadequate XML sitemaps may be the culprits here, as well as needing more content available for the search engine's spiders to crawl and index. Without attention to these elements, it's unlikely that your site will appear on the SERPs - so take the time now to review any issues preventing its indexing.
You're not seeing organic traffic.
Not seeing organic website traffic may indicate that your search engine optimization (SEO) strategy could be more effective. However, multiple components must work harmoniously when building a successful SEO strategy. It includes conducting thorough keyword research to ensure that the appropriate terms are used in your content and that proper on-page optimization techniques are employed.
You can engage effectively with a web audience with the proper SEO components. Next, it's time to look at your SEO campaign's elements and ensure they're targeting the right audience and delivering what they need.
Your website is not ranking for the right keywords.
If your website isn't showing up in search engine rankings related to your business, it's a sure sign that your SEO strategy should work better. This is because one or more critical issues may be at play; is the keyword research targeting relevant phrases and terms, was the on-page optimization appropriately done, or is there enough content? A thorough analysis of these pieces will help determine what changes need to be implemented for effective SEO optimization.
Your website does not have any backlinks.
Having backlinks is an indispensable part of SEO, and if your website does not have any, it could mean a flaw in your SEO strategy needs to be addressed. This could include poor-quality website content, inadequate outreach to add external links or even incorrect anchor text that makes it difficult for search engines to index the page correctly. Therefore, acquiring reputable backlinks is essential to strengthen your website's SEO and increase long-term visibility.
You do not see any improvements in rankings.
It's time to stand back and assess your strategy if you need help with your SEO. Taking the time to do these things well might signify the difference between a successful and a failed SEO campaign. You may not utilize the most effective techniques, such as creating high-quality content, optimizing on-page SEO, and conducting thorough keyword research.
So, these are the several signs that show your SEO strategy is failing. It is essential to identify these signs and take the necessary steps to rectify them to improve your SEO performance.
SEO is not easy; it requires proper technique to build a good SEO. A good SEO can help a business reach the right consumers at the right time. We all know the importance of SEO in digital marketing and also for a business, whether the company is online or offline. A good SEO plan can help to get a better ROI. So, it's always wise to invest in SEO services.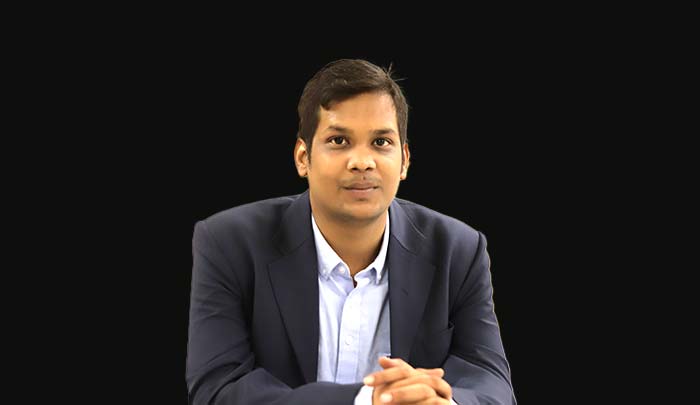 Author: Navneet
Navneet loves creative works especially animation. He has strongly vocal for the UI UX experimentation that pushes the team for regular changes. Do not miss his articles if you are interested in design works.
"
Feel free to use images in our website by simply providing a source link to the page they are taken from.
-- AMITKK
"
Share views on Benefits of SEO for businesses
Please keep your views respectful and not include any anchors, promotional content or obscene words in them. Such comments will be definitely removed and your IP be blocked for future purpose.